Lake Land College's first in-person graduation since 2019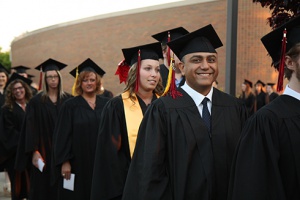 On May 13, 2022, Lake Land College (LLC) will be holding their first in-person commencement ceremony since 2019. It will be honoring graduates from the Summer 2021, Fall 2021, Spring 2022 and Summer 2022 semesters according to the LLC website. At this ceremony, students will be recognized, but their diplomas will be shipped at a later date, when the final grades for this semester are submitted. The ceremony will take place in the Field House on the Mattoon campus at 6 p.m.. The ceremony will also be live streamed on LLC's website on the same day.
When asked if he would be attending the commencement ceremony, welding major Ian Light said, "I won't be [attending], no. But I know many would like to." Light also shared how he felt about the in-person ceremony, stating, "I would personally would rather have my diploma shipped to me, but I think it's important to have an in-person [commencement] for a lot of people."
Allie Painter, an elementary education major, said, "I like having in-person graduation because it gives everyone a chance to be celebrated. Yes I will [be attending], and proudly." when asked the same questions. Painter continued, saying, "Everyone is also there to support each other, even the ones who may not have anyone to recognize them. I know that there are some graduates that may not have anyone and it gives them a chance to be recognized… I'm just glad that this in-person graduation gives a sense of normalcy through this time of chaos and uncertainty." 
According to the students, this commencement is a big deal for some, and not so much for others. After two years of uncertainty, staying at home in their pajamas, hard work and late nights, it will surely be something to celebrate. If you are interested in coming to this year's commencement ceremony, LLC has provided a graduation checklist for those who are graduating at https://www.lakelandcollege.edu/counseling-services/graduation-checklist/.