LLC gets spooky at SAB's Club or Treat Costume Contest
Lakers donned costumes and took to laker point to score some sweet prizes and participate in the costume contest on October 27. 
This would mark the 9th year SAB has hosted the Club or Treat event, if not for the pandemic ruining the spooky season last year and forcing everyone to celebrate from home. However, with a few adjustments, SAB tradition continues this year!
New Director of Student Life, Lisa Shumard-Shelton spoke on the subject saying, "It's the one day a year it's fun to wear a mask!"
Attendance for this event was at a high, especially when compared to the other events from this year. "Everyone loves Halloween." Shumard-Shelton explained, and also that Lakers are "excited to be face to face." Not only does everyone love Halloween, but everyone loves free candy, cupcakes, and cookies too.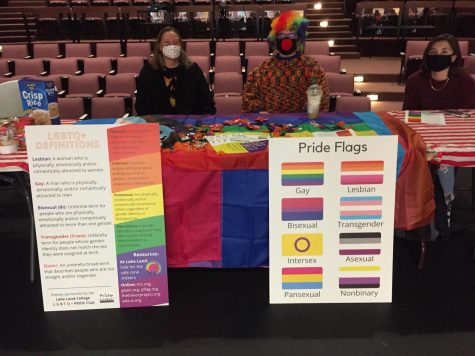 PRIDE booth giving out candy for Halloween (Hannah Hunt)
The different clubs had tables set up on the stage of the theater. They showed off their wares, ranging from candy, to cans of food from the food pantry. The clubs participating included ECE-FS Club, PRIDE, Phi Theta Kappa, Broadcasting Club (89.9 FM The Max Alternative), Environmental Club, International Club, BetterMynd and SAB.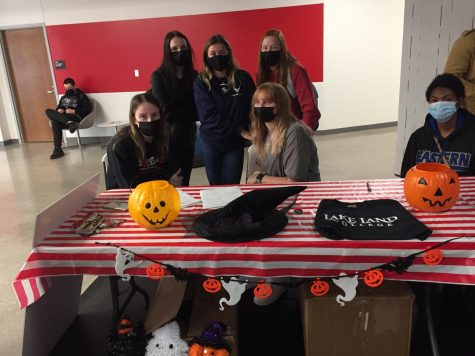 SAB's decorated booth, giving out t-shirts (Hannah Hunt)
BetterMynd members were even walking out from their booth giving out free cupcakes and cookies and discussing everything that was offered and giving out ways to contact them!
Along with the Club or Treat, SAB also hosted a costume contest. The Lakers got to participate in the contest and show off their great costumes. With a total of 8 student participants, the judging began.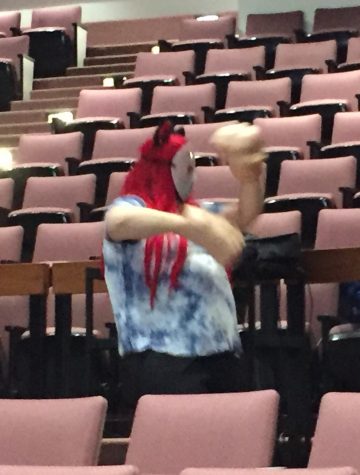 Emily Howen showing off her costume to the judges (Hannah Hunt)
Emily Howen, who dressed up as a character of her own creation started out the contest. Her costume was put into the 'orignal' category.
Following her was Adam Alexandar, who was dressed as Dom Toretto from The Fast and the Furious movies. "Family!" Alexandar shouted as he strutted in front of the judges. "He was competing in the 'character' category.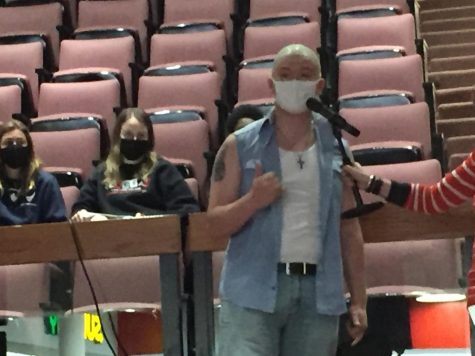 Adam Alexandar explaining why family is going to help him win the contest (Hannah Hunt)
After Alexandar, Kai Starrett walked. Starrett, who sat at the PRIDE booth as well, was dressed as a clown.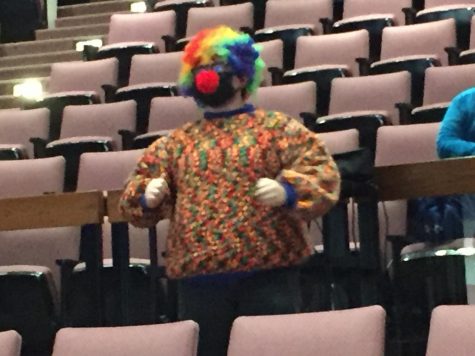 Kai Starrett showing off his clown costume for the judges (Hannah Hunt)
Starrett has a puffy red nose glued to a mask as a part of his costume. "I had to incorporate the mask." Starrett explained. Starrett was the only one in the 'funny' category.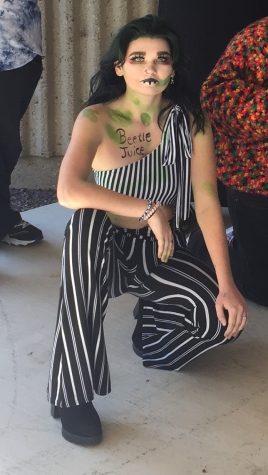 Tawny Webb posing in her Beetlejuice costume (Hannah Hunt)
Tawny Webb followed. Webb was dressed as her own version of Beetlejuice. She was also competing in the 'character' category.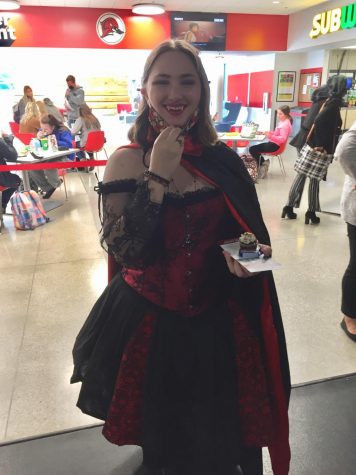 Mahala Vanhise showing off her fangs for the camera (Hannah Hunt)
Following Webb was Mahala Vanhise. Vanhise dressed up as a vampire of her own creation. This includes her very own fangs and everything.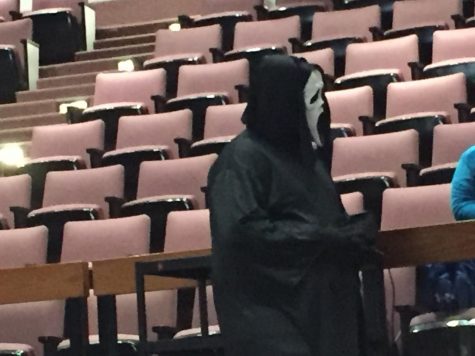 Connor Remlinger stands in silence, creeping out the judges (Hannah Hunt)
Next was Conner Remlinger, dressed as the character Scream. As he walked in front of the judges. He never said a word, and played his character well.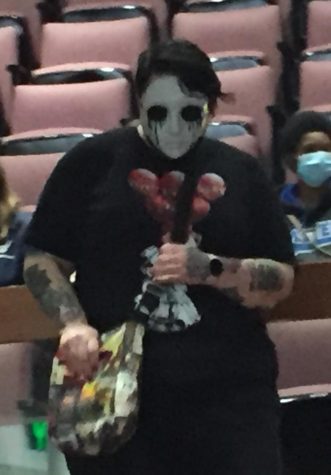 Stephanie Sample showing off her character (Hannah Hunt)
Stephanie Sample finished the parade of costumes with her own character of "Stephen King's #1 fan."
While waiting for the judge's opinion, a halloween dance party broke out among the contestants.
The winners of the contest were announced for each category.1st place in the category of 'character' was Adam Alexandar with his Dom Toretto costume. 1st place in the 'funniest' category was Kai Starrett in his Clown costume. 1st place in the 'original' category was Stephanie Sample with her Stephen King's #1 fan costume.
There were two runner-ups in one of the categories. For 'character,' the runner-ups were Conner Remlinger, for his Scream costume, and Tawny Webb, for her Beetlejuice costume.
When speaking with Alexandar after his win, he said that he "really didn't expect to win." He just decided that he would participate in the contest on a whim, and didn't think he'd win anything.  "I really enjoy Halloween and just thought, why not?"
Originally he was going to reuse his costume from last year and compete as Thanos, the Marvel character. "I couldn't find any purple body paint! I already had the bald cap, so I tried to think of the next best bald character."
Alexandar said that events like these are important for the students because "it helps bring the college together."
Maybe next year the costume contest can grow larger with more participants, as Alexandar said, "Involvement is important!"
To view upcoming SAB events to participate in you can read the article 'Get hypnotized by November's SAB events' or go to https://thenavigatornews.com/9114/campus/get-hypnotized-b…mbers-sab-events/2021/
Happy Halloween Lake Land!