Adventures of Ashmore Estates
Ashmore Estates reopens its doors after being off limits to the public for years. After being passed around from owner to owner for years, the estate has been renovated and revamped. The current owners are officially booking for 2022.
Ashmore first opened its doors in 1857 as a "poor farm". A poor farm is a place people would go if they weren't able to have a paying job, or for women who had been divorced from their husband and had nowhere to go.
In 1911 the poor farm closed down as "the Auxiliary Committee of the State Board of Charities condemned the almshouse for its 'vermin infected walls,' 'rough floors,' 'small windows,' and improper ventilation. It was reported that 'flies swarmed everywhere' and 'were especially noticeable on the poor food prepared for dinner' according to Ashmore's website. 
Coles county later sold the building to Ashmore in 1959. That same year it became a private psychiatric hospital known as Ashmore Estates. The hospital ran for twenty seven years, but in 1986 Ashmore Psychiatry closed its doors.
 It has had a few caretakers since then, and at one point it was even a haunted house attraction! However, Ashmore estates has now been given new life through its newest owner, Robbin Terry.
Terry reminisces about his first time visiting Ashmore, and discusses all his reasons for buying the property.
"I was out here in September of 2012 with an investigation group. I liked the building, but it was filled with so much clutter. I liked being here but you couldn't investigate," said Terry. "Then a guy contacted me in 2013 about buying props for his new haunted house, and mentioned his old one, Ashmore Estates, which was closing, so I came back out and the building was a mess. However, there was something up on the second floor that said 'buy our building'. The spirits wanted their building to have help." 
Terry purchased Ashmore Estates from Scott Kelly, though the building was in pretty bad shape. The years had been hard on the old building. 
Terry reminisces, "There was no roof, no water, no electricity, no windows, no reason to really buy it. It was in really bad bad shape."
However, Terry repeated that the spirits needed help and so they began some of the renovations.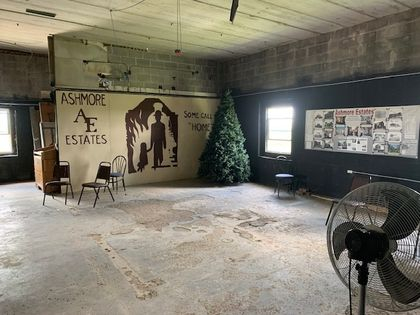 The Ashmore you see today is still under these renovations. A few of the renovations include redoing some of the rooms to make them look like the patient's rooms, cleaning out everything from the haunted house and fixing the roof. 
Even still, Terry didn't want to change or renovate everything.
"We are not going to restore the whole building, just maintain it." Terry stated, " I think to try to restore it you can go one or two choices: the poor farm or hospital side of it. I personally am for the poor farm because those were the people that lived here. They were here because nobody wanted anything to do with them. The hospital part is interesting but it was basically here to help people. I feel really sorry for the poor farm people, they were just stuck here."
Robbin has set up rooms with vintage furniture and has accepted antique donations from people. There have been a number of donations, like old rocking chairs, wagons, baby dolls, stuffed animals, balls for the kids and even books.
He is also working on a project to make it easier for investigators to do their jobs. They used to have to run wires up the stairs, but now they will be able to plug their camera directly into the wall in any room or hallway.
"I always want to make sure Ashmore is a good place for people to come investigate. However the biggest concern is vandals breaking in. They don't realize that they will be prosecuted and if they are an adult, they will go to jail or pay damage cost," says Terry.
Ashmore Estates is technically private property so trespassing, entering the grounds or the building without permission, is illegal. 
This historic home is fragile and can be dangerous if not shown how to navigate through the halls properly. 
Terry has installed cameras to try and protect Ashmore from break ins. There have still been times in the past when groups have broken though.
"A group that broke in last April, was here for twenty minutes and caused about forty-five hundred dollars worth of damage. They could have spent fifteen hours here for five hundred dollars."
Breaking into Ashmore will also go onto your criminal record. Terry says, "It's cheaper to call us and schedule an investigation."
Ashmore's pricing is as follows: Daytime investigations are three hundred dollars for a group of twelve people, and they run from 11:00 a.m. to 6 p.m. Overnight investigations run from 7p.m. to 10 a.m. and cost five hundred dollars for twelve people. 
They also do public investigations with a limit of twelve people for fifty dollars which starts at 7 p.m. and goes until 2 a.m. Ashmore Estates also rents out bunkhouses that fit four people. Lastly, they do public investigations for thirty dollars per person.
All the proceeds from these tours and investigations go directly back into the maintenance of the building and to the foundation they support called Lost Limbs foundation. This foundation gives financial assistance for prosthetics to amputee children. 
"There is a chance you can see Ashmore soon," Terry mentioned, "We have an open house on October 3 and it's free!"