The disco is over and fans are still panicking; Panic! at the Disco calls it quits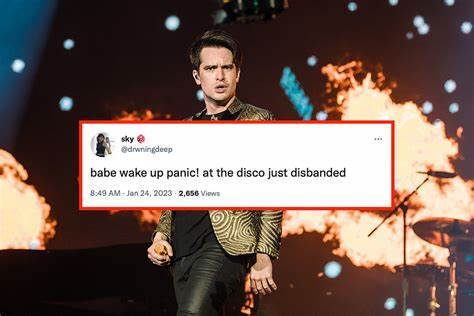 "Well, it's been a hell of a journey…", Brendon Urie, frontman and only remaining member of the band "Panic at The Disco", declared on his social media platforms the morning of Jan 24. Urie's released statement stated that the band was officially splitting up, after nearly 20 years.
Urie's reason behind the split was that he and his wife, Sarah Urie, are having a baby. He stated that, "I am going to bring this chapter of my life to an end and put my focus and energy on my family, and with that Panic! At The Disco will be no more."
He also stated that he and his wife were trying to keep the news of their baby to themselves, but some fans already knew. Many fans have been accusing Pete Wentz, guitarist of band "Fall Out Boy" for leaking the news. Back in Dec., Wentz posted a picture on his Instagram story of him cooking. However, fans spotted a suspicious photo hanging on his fridge in the background. The photo showed brendon cradling his wife's very noticeable baby bump. The photo has not been confirmed by Wentz nor Urie, but fans seem to think that the resemblance is uncanny and Urie's news is no coincidence. 
"Panic! At The Disco" began as a "Blink-182" cover band back in 2004. Urie and former member Ryan Ross sent a video of their music to Wentz who instantly signed them to his record label, "Decaydance Records." Since this sparked the band's successful career, many fans have made the comment that Wentz built and destroyed the band. Twitter user @clownsocks tweeted, "Thinking about panic at the disco existing because of Pete wentz and panic at the disco ending because of Pete wentz."
On Aug. 22, Urie released the album, "Viva Las Vengeance" and went on tour for the new album on Sept. 8.  The tour is set to conclude on March 10 and will of course be the band's last tour. The album had mixed reviews from many fans. Tik Tok user @enlightenedandafraid posted a video saying "Brendon Urie Drops the worst album of the century and then said "aight imma head out???" And that's how Panic dies?"
More than a dozen of the band's songs have made it to the Billboards Hot 100 songs. Although reactions were mixed when it came to Urie's news, many fans will deeply miss the band and their music. Urie ended his statement by thanking his fans for all their support during his career. He stated "I love you. I appreciate you. Thank you for existing."