SGA met with President Bullock and is helping with One Stop Community Christmas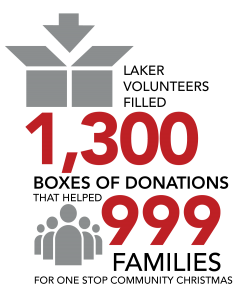 The Student Government Association (SGA) was very busy during November. They met with President Josh Bullock at their meeting on Nov. 16, welcomed a new sophomore delegate, voted on constitutions for the Math Club and Computer Sciences club, took part in the Interclub council – moreover, Vice President Paul Dorman did – and voted to take part in and match up to $1,000 in donations by other clubs for the One Stop Community Christmas event happening Dec. 10. 
Their meeting with President Bullock on Nov. 16 was one of two meetings SGA has had with the President during this semester. They plan to continue these monthly during the spring semester. These meetings are to help communication between the students, which SGA is the voice of – the Board and Administration and the President stay up-to-date and constant. This meeting included questions about student concerns about the vending machines, the 10-year plan concerning landscaping and other changes to the campus and the President's thoughts on how much or how little clubs were permitted to decorate for the holidays. 
In light of student concerns about the vending machine stock, SGA asked President Bullock about the supply chain issues that are occurring. Bullock stated that the Board and other administrations are trying to handle those issues by looking into other possible vendors or even stepping outside of known possibilities. However, since the college has a contract with Pepsi America it has been very difficult to do so. The college has been communicating with Pepsi America to try to solve these issues with no success. The President said that he hopes to continue these communications to further resolve these issues. However,  at this moment the college is unsure about any other specifics on when issues with vending machines will be resolved. Questions asked about the 10-year plan and possibly publishing it to the public were answered with it being in its very first stages and the Board will publish it on the website once further confirmations from outside parties associated with the plan have been solidified. 
One Stop Community Christmas is happening on Dec. 10 this year and SGA is volunteering! One Stop Community Christmas is a community-driven service to provide some Christmas joy to those in the community that may not be able to provide it for themselves. It is a drive happening all day. There will be toys and gifts for the kids, necessities like toilet paper, toothbrushes, toothpaste and canned food for those community members that need it. SGA is volunteering at the Community Christmas and is matching up to $1,000 in donations from other clubs around Lake Land College's campus. All are welcome and for more information talk to any SGA member or email [email protected].