LLC's enrollment is through the roof!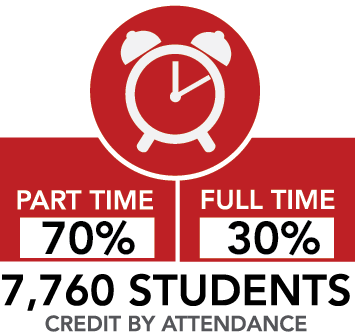 Enrollment during the summer and fall of 2022 has increased significantly compared to the prior two years. During the summer semester, Lake Land College (LLC) saw an eight percent increase in credit hours and a 4.6 percent increase during the fall semester. Although LLC is not back to its pre-pandemic levels, this increase is still very encouraging for LLC, especially since many other local colleges are still experiencing a decline in enrollment. 
According to the state report of the fall 2022 enrollment, LLC has seen a 24.29 percent increase in enrollment for technical skills training. There has also been an increase in those majoring in liberal studies and applied science. An associate in liberal studies has increased by 5.6 percent, while an associate in applied science has increased by 9.7 percent. 
Due to the coronavirus pandemic, students were faced with financial stress and an overall feeling of anxiety associated with going to campus. This caused LLC to experience a decrease in enrollment numbers. As the campus becomes more open, more students feel more comfortable attending class. Regarding the cause of increasing enrollment, the President of LLC, Dr. Josh Bullock, stated that "I'm hoping it's for a number of reasons, one of them is because campus is much more open and I think with many mitigations available for covid such as vaccines and treatments, there is less anxiety about coming to campus and potentially getting some kind of illness. Of course, not having as many restrictions on campus that we've had in the past with masking and social distancing are helping as well."
  Bullock also believes that the decrease in tuition was another factor that contributed to enrollment numbers. This year, LLC lowered the cost of tuition to just $100 per credit hour. Bullock stated that "When the board voted on a 10% decrease in tuition, our hope all along was given the increases in inflation for food, fuel and housing, we did not want that impacting students and preventing them from coming back to school. We knew from what we were hearing that it really was a factor. Just having to drive to campus when gas is $4-$4.20 a gallon, that makes a big difference. So I really believe in my heart as well, that by lowering tuition it gives students a little more money in their pocket, hopefully to deal with these costs they're facing on a daily basis just to live." The cost of tuition is a big factor for students when considering higher education. Due to the pandemic and inflation, many students are struggling financially and LLC has provided an affordable option for everyone. 
Bullock hopes to see enrollment continue to increase as COVID becomes a thing of the past. As we adjust to a 'post-pandemic' life, employers will most likely become more particular about who they hire. As of now, many employers are in desperate need of employees in their workforce. However, Bullock predicts that "As things start to stabilize and the economy as well, it's really going to be about skill sets. I think we are going to see more and more people realizing the ongoing need to sharpen their skill set for their employer. I think that will lead to an increase in enrollment as well." Seeking higher education will be seen as more of a necessity, causing LLC to see a greater number of students attending the college. 
The pandemic has been a rough time for many. LLC has tried to be accessible and helpful to all students throughout this difficult time. However, if any student has any concerns or comments about how LLC can improve to better serve their students, please speak with President Bullock or the Board of Trustees. Bullock wants all students to know that "We are here for the sole purpose of serving students. We want to make sure our education is accessible and affordable."