Supermarket Bingo
Wednesday, Nov. 10,  the Student Activity Board (SAB) hosted Supermarket Bingo at Laker Point inside the Luther Student Services building on campus. Almost every Wednesday the SAB has hosted various events on campus from 11 AM – 1 PM for the students to unwind, relax and just have some great fun! 
The activities are always free for students along with community members. The purpose of Supermarket Bingo is for the winners, who have a successful bingo, to win a bag full of goodies from either Wal–Mart or the on–campus Food Pantry.  The primary focus is on the participating students to network, win beneficial prizes, and have a good time.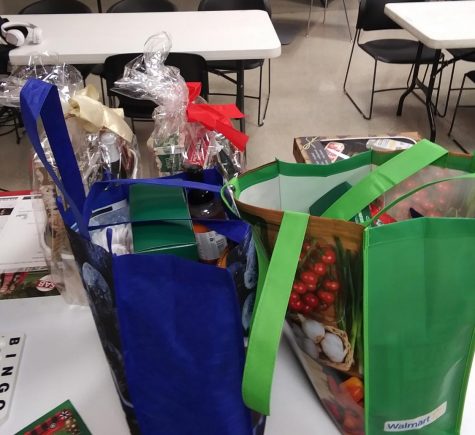 Some of the goody bags available to winning bingo boards.
The director of SAB is Lisa Shumard–Shelton, who is also the Student Life Director. When describing Supermarket Bingo, Shumard–Shelton excitedly exclaimed, "It is a tradition for LLC SAB!  It is a popular event!  I am not sure how many times we have hosted it, but it is always a hit!!  Students love the free items and each winning basket is usually at least $20 worth of items!  Typically, 40–50 students participate in this event!" 
James Silas, a Radio/TV Broadcasting student, whose on-air moniker is 'D.J. Bougie,' was responsible for calling out the Bingo numbers, and he keeps the party movin' and groovin '!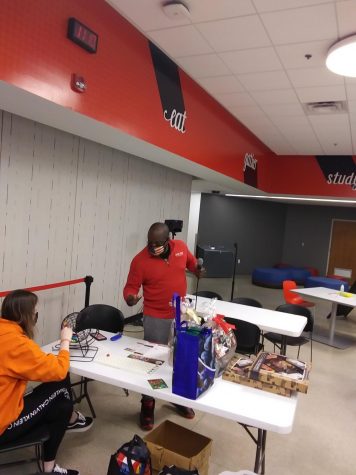 James Silas, also known as D.J. Bougie from Lake Land's radio station, 89.9 the Max Alternative, WLKL-FM, calling out Bingo numbers.
The games played were Traditional (straight line either across, vertically or diagonally), four corners (four numbers at the edge of the card) and Blackout (with all numbers covered.)  The free space counts for Traditional and Blackout games, but not for four corners. 
This semester, Silas currently hosts a sports show with 89.9 the Max Alternative, WLKL–FM.  WLKL–FM is Lake Land's very own student staffed radio station since 1976. 
Lakers can participate in other SAB events almost every Wednesday.