Free airbrush items and trivia night brought to Lakers by SAB
For the month of January, the Student Activity Board hosted two events for Lakers. The first taking place on Jan. 13 at 7 p.m. was customizable airbrushed items. You had the option to choose between a hat, drawstring bag or pillowcase to be customized. The best part is that not only were the items free, but the item was shipped to you for free too.
On Jan. 20 at 7 p.m., SAB hosted a trivia game night, Nerdology. Nerdology contained four rounds of questions where players could individually or as a team answer the questions to gain points. In round one your general knowledge was tested, in round two called, "A Picture Is Worth A Thousand Words," you had to name the cereal to the appropriate mascot image, in round three you had to match up heroes to their weapons, and in round four you had 20 questions guessing the song title then the artist of that song to match up with the audio. The tricky thing about round four though, the audio they played were parodies of the original song by Weirdo AI. It was your job to remember the original song and answer the correct original song and artist name.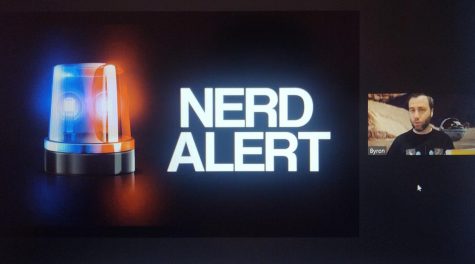 In between each round, there was a mini competition called "Nerd Alert" whilst the hosts calculated the scores of the previous round. After round one, the Nerd Alert was a picture that then participants had to give suggestions to make it a meme. There isn't a limit to how many answers you can give, but there was a time limit. After round two, the Nerd Alert was a competition between three volunteers of going back and forth listing Marvel movies until the opponents couldn't think of another movie or repeated a previously stated movie. After round three, there was a comic without the words to a notoriously not funny comic "Family Circus," and it was the participants job to give a funny scenario to go along with the comic. This Nerd Alert had the same rules as the first one. After round four, the Nerd Alert involved two volunteers to play a game called "Fetch or Not Fetch." In this game the volunteers were given catchphrases that they then had to answer if the catchphrase "was totally fetch" meaning its an actual pop-culture catchphrase, or "not fetch" meaning it was a made-up catchphrase by the hosts.
Winners of each round of Nerd Alert and then the second and first place winners of the trivia received a Wal-Mart egift card as their prize.
All of SAB's events are free for Lakers and as of right now until we can be on campus again, all events will be held virtually. To learn about upcoming February SAB events, read our February SAB events article written by Reporter Jess Oakley.