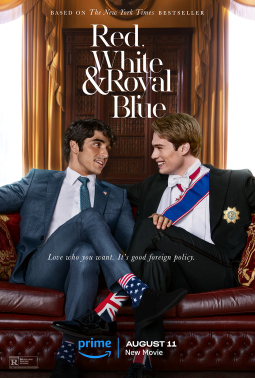 August 11 saw the release of a brand new romantic comedy on Amazon Prime Video. Entitled "Red, White and Royal Blue," the movie roughly follows the events of the book of the same name, by author Casey McQuiston. As a direct result of this movie, signups for Amazon Prime Video skyrocketed, as the movie reached a peak of #2 in the top 10 in the United States. But before you sit down to watch it, be warned, the movie is rated "R" by the Motion Picture Association (MPA). Spoilers for the movie ahead!
Alex Claremont-Diaz, played by Taylor Zakhar Perez, known for "The Kissing Booth 2" and "The Kissing Booth 3," is the son of the first female president, Ellen Claremont, played by Uma Thurman. As part of her reelection bid, she enlists Alex to visit the wedding of Prince Phillip, the heir to the throne. At the after party, Alex gets into an altercation with Prince Henry (played by Nicholas Galitzine), and the large wedding cake falls on top of both of them, which lands them on the front page of the newspapers the next morning. As a result, both of them start immediately on a press tour to set the facts straight. Over time, these two go from hating each other's guts, to deeply in love with each other. 
Other cast members include Stephen Fry as HRH King James III, Rachel Hilson ("Love, Simon", "Love, Victor") as Nora Holleran and Rachel Maddow and Joy Reid, portraying themselves. Casey McQuiston, the author of the book, makes a cameo appearance as one of President Claremont's speechwriters. 
Back in 2019, Amazon Studios bought the rights for the film, which would go on to be produced by Berlanti Productions, which notably produced most of the TV adaptations in the DC Universe, such as "The Flash" and "Superman and Lois". Filming began in June 2022 and concluded in August 2022. The world premiere was July 22, but all of the cast did not attend, due to the writers strike. Matthew Lopez, the director, did attend, but did not walk the red carpet or answer any questions related to his involvement with the movie.
Story continues below advertisement
See "Red, White, and Royal Blue" on Amazon Prime Video. There are currently no plans to host this movie on another streaming service, or physical DVDs, at time of writing.