Adam Alexander's advanced finals guide
With the semester coming to a close, it is important to make sure you have what you need to finish it strong. From making sure you are ready for your final tests, to remembering to return those books you may or may not have opened at all. This is my advanced finals guide for the Lake Land College (LLC) 2022 Fall semester!
First of all, the most critical thing is to make sure you are registered for the next semester! To do so, can log in to your Laker Hub via the LLC website: https://www.lakelandcollege.edu/. Once logged in, look under the "My IRIS" tab for the "REGISTRATION" button. It will drop down a list of other options. The one I find easiest to use is at the bottom labeled "Student Planning & Register." From here you are able to follow the step "View Your Progress" to find what classes you need for your degree or program, then "Plan your Degree & Register for Classes" to pick and choose what classes you want for the next semester!
After making sure you are registered, the next thing you should do to prepare for finals is double check that you have submitted all your classwork. Email your professors to ask if there is any work you need to make up. Depending on their personal class policy it might be too late, but you should still turn in any missing assignments you can, even if they will deduct points! A 50% is still better than 0%!
Now that you have finished preparing for the next semester and tied up the loose ends of this current semester, the time has come for finals week. Before finals, make sure to double check when your final takes place! The finals schedule is different from your normal class schedule. To find the finals schedule go to the LLC website and look under the "Academics" tab. Then, to the right under "RESOURCES" click the "Final Exam Schedule" link. If this was too much, be sure to check out the schedule I provided at the end of this article!
Once you have figured out your schedule, the next step is to prepare for each of your finals individually. Whether that is to study, finish a presentation or write those last few pages of that research paper you have had all semester to do. Whatever it may be, just make sure you are ready for finals. After finals are over, make sure you return those books you may or may not have used! You do not want to get charged for a book that was not even opened.
Now for the final and most important step, get some rest! Before and after finals make sure you are well rested and fed. Take care of yourself and your mental health! You cannot perform well if your mind is elsewhere, or if it has not had enough sleep to recharge. This is my advanced finals guide and how I personally get through the rough week so many dred. Good luck on finals and remember to get some much needed rest!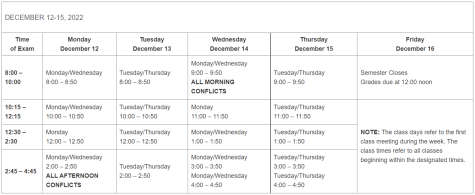 Make sure you know what time your final exam takes place with this handy schedule! Photo via Adam Alexander.