Royalty on campus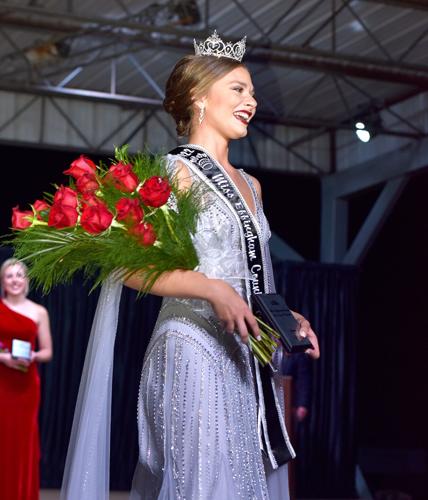 You could be face to face with royalty in your local community college halls. Recent 2022 Effingham High School (EHS) graduate, Anna Carrell, can relate to this feeling as she was named the Effingham County Fair Queen only a month ago.
Carrell chose Lake Land College (LLC) as an option close to home, and she describes it as having a home-like atmosphere. Carrell comes into LLC pursuing a secondary science education degree, but her future, she says, "is up in the air, and this is the perfect place to make her final decision on her career." 
 Coming as a surprise, this was Carrell's first pageant. Former Effingham County Fair Queen (2020) and Laker Alumni Taylor Hartke reached out to Carrell, asking if Carrell would like to participate, as she seemed like a good contender. When speaking on why she joined the pageant, Carrell stated, "I love to try new things." She then went on to explain that Hartke told her that she could "gain many new skills from simply competing, which sparked a look into how it could potentially affect my future." 
In high school, Carrell was the captain of the EHS poms team, danced for 16 years, and even taught at the local LARA dance studio. Since Carrell is attending LLC for a teaching degree, she believes her experience with teaching dance and doing pageants has helped her to be confident while public speaking and making a general connection with the audience through her presence on stage. 
Carrell knew how to carry herself on stage with poise and posture. She decided to go ahead and take a few pageantries "crash courses" over the summer to practice interviewing and learning a few good tips. Carrell says she didn't think she would win but looked forward to the knowledge gained through the experience.
When asking Carrell, "When competing, what was one part of the evening that made you think 'I could win this,'" she responds by saying, "the thought had never crossed my mind until the crown was placed on my head. Eight beautiful, talented ladies did an exceptional job that night."
Carrell thought it wasn't her year as they called other contestants names for the runners-up. She describes her emotions as being surprised and honored when she was announced as the winner. Carrell decided to compete on a whim, so winning the whole thing comes as a surprise and opens up a new world. She can't forget to thank her friends and family for cheering her on, as they boosted her confidence.
When seeing this queen on campus, just know that education comes first for Carrell, and a fantastic pageant team behind her takes a weight off her shoulders when organizing a now, even more hectic start to a school year.