Women's History Month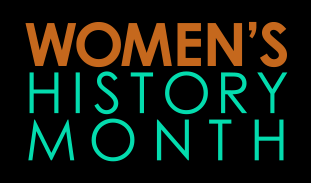 Women's History Month is the celebration of the contributions women of all racial backgrounds have made in American history. The quote, "Well-behaved women rarely make history," has been attributed to Marilyn Monroe and Eleanor Roosevelt. The women at Lake Land College (LLC) who hold high positions continue to prove otherwise.
Women's History Month began as Women's History Day in Sonoma County, California under the direction of Gerda Hedwig Lerner, an Austrian native as well as an American and Women's history author. Under the direction of Lerner and the National Women's History Alliance, the concept was expanded to Women's History Week in 1980 and eventually Women's History Month in 1987. On March 12, 1987, the 100th Congress passed a resolution, Public Law 100-9, which designated March as Women's History Month. Since 1988, U.S. presidents have issued annual proclamations designating the month of March as Women's History Month on occasion. 
I was honored to speak with some of our leading women at LLC. They told me their stories, and what exactly Women's History Month meant to them.
Amanda Arena is the manager of the textbook services at LLC. In addition, Arena is an adjunct faculty of the business department. Previously, Arena has held many positions at LLC, such as coordinator of bookstore operations, marketing productions specialist and scholarship & special events coordinator. According to Arena, "Women's History Month to me is a time to recognize and remember the accomplishments and incredible strength of great women who are paving the way for future generations of women." 
 Emily Hartke is the current chair of counseling and judicial affairs advisement. Hartke has also had multiple previous positions at LLC, like counselor for accommodations, special projects coordinator and human services internship coordinator. 
 Hartke stated that "Women's History Month provides the opportunity to contemplate and show appreciation for the efforts of women leaders, such as Frances Perkins and Mary Jackson, who paved the way for women leaders of the present and future. Personally, it is also a time for me to be extra thankful for all strong women role models in my life. I've been blessed with a strong mother, 16 strong aunts and excellent women mentors at Lake Land College during my 27 years of employment at the college." 
 Sarah Hill is the current director of library services. Hill's previous position at the campus library was the information services librarian. In conjunction with her position on campus, Hill serves on the Board of Directors for the Network of Illinois Learning Resources in Community Colleges and is President-Elect of the SHARE Executive Council for the Illinois Heartland Library System.  
In regards to Women's History Month, Hill stated that "Women's History Month allows educators to highlight women who aren't always mentioned in textbooks—those who are overlooked and under-recognized because they are female." 
 Salisa Hortenstine-Olmsted is the current chairperson of the humanities division of LLC, as well as an instructor of communication studies and English. She has taught at a collegiate level for the past 36 years. In concurrence with her teaching and administrative responsibilities, Hortenstine-Olmsted is also a co-owner of a real estate investing business, an elected official and board treasurer of a multi-township assessing district. Furthermore, Hortenstine-Olmsted has taught at a collegiate level for the past 36 years. 
In regards to Women's History Month, Hortenstine-Olmsted revealed that "It means that women have played strong roles in history to help get us where we are now. Although women did not get the limelight in many eras of history, they have always been there as wives, mothers, grandmothers, aunts, sisters, etc., and their supporting roles were necessary for the success and advancement of others." 
Hortenstine-Olmstead continued, "Whether they were getting their children ready for school, taking children to church, or doing countless possible life tasks that helped others to get where they were going or accomplish their goals, women have always been a strong part of the equation. It has always been women who have brought babies into the world and nurtured them to adulthood, so Women's History Month is meaningful because of all the women before me who did what they did without recognition and paving the way for me to work in a career, raise a family and enjoy a position that places me equal to others."
 Christine Strohl is the dean of workforce solutions and community education. Strohl held a number of positions at LLC over the past 22 years, first serving as a paraprofessional. Once Strohl completed both her Bachelor's and Master's degrees, it opened up multiple other career options for her on campus. 
In regards to Women's History Month, Strohl said that, "Women's History Month is about the strong and determined women that came before us, and how their barriers have become opportunities for women today. I also see Women's History Month as me helping to remove the barriers of today for the next generations of women, including my daughter and granddaughter."
 Pam Hartke has recently been named the new associate dean of enrollment management. Hartke's previous position was admissions representative, which she served for over seven years. Hartke stated that "Women's History Month is important to me because we are honoring the amazing women who have laid the pathway for the progress we have made to date, like the right to vote, reproductive rights, and many more!" 
The women mentioned above demonstrated that not only do they hold high positions on campus but also they are involved in many activities in the community as well as taking care of their children. Women's History Month may be officially confined to the month of March, but this does not mean that they should not be celebrated for the other 11 months! Women are essential to this world and are here to bring change.