Halsey releases 'Nightmare (Reprise)' with Nine Inch Nails
Halsey is back at it again with an extended version of her hit album "If I Can't Have Love, I Want Power." This extended version features a brand new track "People disappear here," as well as a "Reprised" version of one of Halsey's leading tracks "Nightmare," now featuring instrumentals from iconic rock band Nine Inch Nails, who also helped produce the rest of the album.
"Nightmare (Reprise)" definitely has a 90s and 00s rock feel to it, as would be expected from a song composed by Nine Inch Nails. The band has always had a heavier sound to their music, and they don't stray from this in their instrumentation on Halsey's track. As a fan of both bands, I do have to say that this collaboration was not my favorite. The tempo of the vocals and instruments seemed to clash together and it just wasn't as pleasing to the ears as the original track.
I will give the band and artist a bit of slack on the clashing tempos because the song is about Halsey feeling like her life is full of "wreckage" and that she feels like she is a "nightmare." The disarrayed instrumental may have very well been a stylistic choice to showcase the feelings of chaos in their life.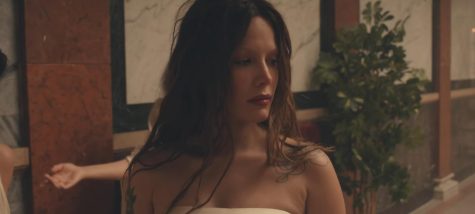 'i am not a woman, I'm a god' Music video. Image taken from said music video.
The last track on the extended album is a brand new song titled "People disappear here," and it also follows a rather unique tempo. The song features lyrics about Halsey's experience with fame, moving from place to place and the sleep paralysis demons that followed her from bed to bed. Each verse tells a story of these demons she sees in her nightmares, and the chorus features a haunting vocal that gives the feeling of walking through a ghost town. 
I personally likened the lyrics to a person showing two sides of themselves to different crowds. The first verse says, "A girl from California waits / She has my name but not my face," likely referring to the way the media portrays them, versus how Halsey views themself. She is seeing a twisted version of herself, with the photos titled with her same name, but she feels a disconnect to the person in the photos. 
The entire album is a documented diary of Halsey's struggle with power between her and men, media, and her own demons, and the tracks on the extended album are no different. Overall, the entire album is most definitely worth a listen, but be warned that "Nightmare (Reprise)" doesn't follow the sound theme of the album, so the track change can be jarring!