Hawkeye on Disney+
Episodes one and two of "Hawkeye" premiered Nov. 24 for Disney+ subscribers. This is the newest addition into the Marvel cinematic universe (MCU) category of shows. Following three other series, "WandaVision," "Falcon and the Winter Soldier" and "Loki," "Hawkeye" was following some big names. However, many Marvel fans did not know what to expect from the show due to the lack of screen time and character development of Hawkeye in past Marvel movies.
Here is a quick summary without spoilers:
The show is set in "post-blip" New York City and follows Clint Barton (Hawkeye), played by Jeremy Renner. Barton is fighting to get back to his family before Christmas. Barton's family were part of the half of the population that vanished after the Avengers lost their battle against Thanos (see "Avengers: Infinity War"). However, this mission is put on hold when a "threat from his past shows up." Barton then has to team up with another archer, Kate Bishop (played by Hailee Steinfeld), to "unravel this criminal conspiracy."
Disney put out two trailers in the upcoming months before the first two episodes of the show were released. The first one, released Oct. 28, is only a minute long. It does not give viewers very many details about the show. This trailer really only highlights the show's focus on Christmas and the signature Barton sass that Marvel fans know and love.
Viewers do get more information in the second trailer. This one has nearly two minutes of watch time, and shows more of the meat of the show. It highlights not only Barton's focus to make it home to his family before Christmas, but also gives viewers a peek at the possible main villain. This trailer still used a lot of the same clips from the show as the first one. 
As mentioned above, the first two episodes of the six episode series released Nov. 24. The third was released the following week on Dec. 1, the fourth on Dec. 8 and the fifth on Dec 15. Finally the season finale was released on Dec. 22.
This final episode has piqued many fans' interest. Specifically their wording. Marvel said the season finale, not the series finale. Although it is just speculation, many believe there will be a season two of "Hawkeye." Fans assumed that "Hawkeye" will follow suit with Marvel's "Loki" and "What if…," whose next seasons were not announced until after the end of their first seasons. However nothing has been announced for "Hawkeye" yet.
Though nothing can be said yet of "Hawkeye" season two, Marvel has unveiled that there will be a spinoff. "Echo," one of the next Marvel/Disney+ series to come out, will follow the character Maya Lopez (played by Alaqua Cox) who will make her first appearance in "Hawkeye."
Now come some of the spoilers:
"Hawkeye" has opened so many peoples eyes to just how much being a hero can affect someone's life. Not only that, but it has brought many characters from the comics to the big screen. 
Our first established antagonist is Maya Lopez. In the comics Lopez is the adoptive daughter of Kingpin. She is a deaf amputee on a quest to find vengense for her father, who was murdered the Ronin in "Hawkeye."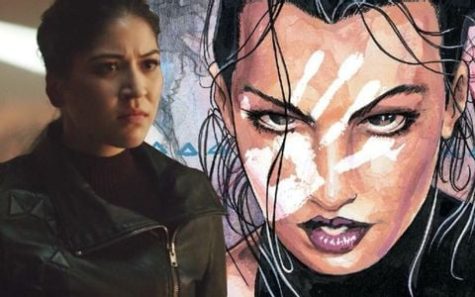 A side by side of Alaqua Cox's Maya Lopez (Echo) and Marvel Comic's Maya Lopez. Photo retrieved from Screen Rant.
Kingpin (played by Vincent D'Onofrio) was a much sought after villain in the MCU. Originally the character is a Daredevil villain. Now both characters fit into the MCU through their appearances in "Hawkeye" and "Spiderman: No Way Home." Both also appear in the Netflix series "Daredevil."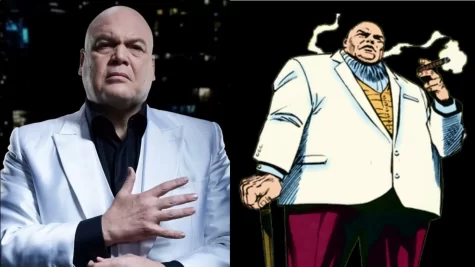 A side by side of Vincent D'Onofrio's King Pin and Marvel Comic's King Pin. Photo retrieved from DualSHOCKERS.
Yelena Belova, Natasha Romanoff's sister, also makes an appearance in "Hawkeye." Florence Pugh made her debut as Belova in the 2021 movie "Black Widow" and Marvel fans have been dying to see her get more screen time ever since.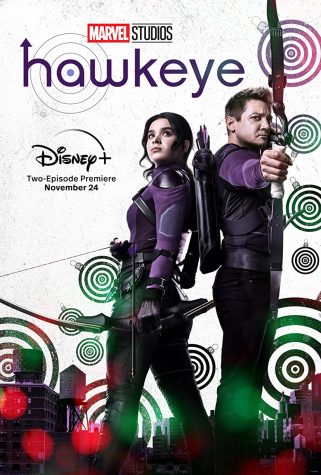 Photo retrieved from IMDb.
All episodes of "Hawkeye" are available now on Disney+. In order to get a view of some of the comic book aspects of Hawkeye, his deafness and quipyness, give it a watch!
Trailer 1: Event | Marvel Studios' Hawkeye | Disney+
Trailer 2: Marvel Studios' Hawkeye | Official Trailer | Disney+