A Christmas wonderland of lights
Mattoon, Shelbyville and Effingham light the way to christmas
If you need something to help get into the Christmas spirit, but want to keep your funds for presents, go see some Christmas lights!
Shelbyville, Mattoon and Effingham all offer a park full of lights. Starting the weekend after Thanksgiving, they turn on these lights and allow families to drive through and enjoy. 
Shelbyville's lights, known as the Festival of Lights, start at five p.m. and go until nine p.m. on weekdays and ten p.m. on weekends. The drive-through lights are run by Bill Bly at Forest Park. 
There you can see the North Pole, candy cane lane, a reindeer jumping over your car and a beautiful Carousel around a historic building. At the end you can donate and also get candy canes.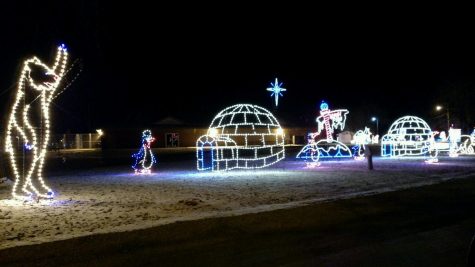 The North Pole in Shelbyville's Festival of Lights. Photo retrieved from Enjoy Illinois.
Mattoon's lights show is featured in Peterson Park. They go from five p.m. to ten p.m. all week. Here you will see more moving lights like a big Frosty the snowman going sledding, or Oscar the Grouch, coming out of his trash can. 
Viewers are able to drive through a beautiful light tunnel and, like Shelbyville, have a reindeer jump over your car. However this one thing special at this show and that is Lake Land College's donated light. Lake Land College's donation shows kids reading a book. At the end you can donate and get candy canes.
Effingham's Wonderland in lights is another place of Christmas cheer. Drive through Effingham's community park and see their stunning use of the hills and area around them to make you feel as if you are watching these lights from a cliff.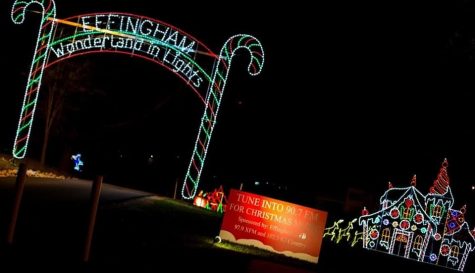 Entrance of the Effingham Wonderland in Lights. Photo retrieved from Instagram @visiteffingham.
Viewers will see elves working on toys and in school. Viewers will also get to go through amazing snow light tunnels and see reindeer eating. There are even some 3D lights you can see!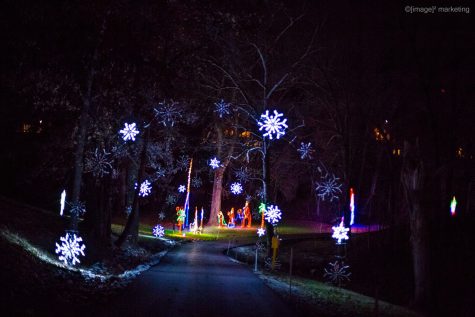 Snowflake tunnel to drive through in Effingham's Wonderland in lights. Photo retrieved from Enjoy Illinois.
Downtown Effingham at the courthouse offers 3D tall standing lights that you can go and take pictures by or even sit in. They offer a big tunnel, a teddy bear, a gift, a star and even a sleigh.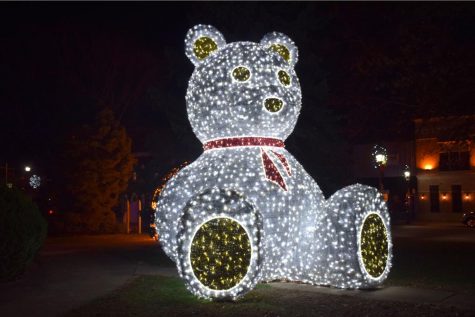 Teddy Bear 3-D display in Effingham town square. Photo retrieved from Effingham Daily News.
If you go on Saturday, Dec. 19, you can even see Santa! Effingham's Wonderland of lights started Thanksgiving night and are still open to the public now. Like Shelbyville they run five p.m. to nine p.m. on weekdays and five p.m. to ten p.m. on weekends. 
So if you're bored, have watched every Christmas movie, done every Christmas craft and want something fun to do, go support these local lights and take some pictures.