LLC Student Ambassadors
Lake Land College (LLC) student ambassadors have been hard at work recruiting new Lakers. LLC's Student Ambassador Program began in 1994, and the guidelines for students who are interested in participating are as follows:  you need a 2.5 minimum GPA; undergo a group interview; as well as be enrolled as a full–time student, taking at least twelve semester hours. 
The responsibilities (such as assisting the Admissions Representatives in recruitment efforts, including attendance at Laker Visit Days, high school visits, orientation events, college fairs and one–on–one campus tours for prospective students and their families) are many but the experience gained is rewarding. There are many perks of being a student ambassador, such as networking, getting to better know the faculty, staff, and programs on campus, receiving a $250 scholarship during the semester served, and having a great entry on your resumé to potential employers.
The two administrators who oversee the student ambassadors are Pam Hartke, who is the Admissions Representative; and, Brittany Aitken, who has served as the Community Outreach Coordinator since April. Hartke and Aitken both enjoy working with high school as well as college students.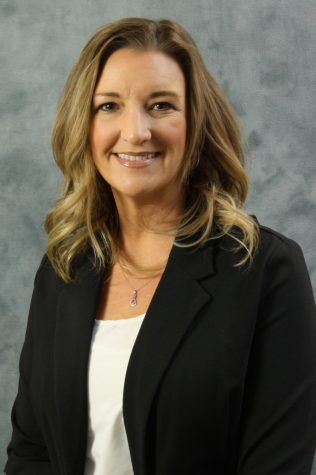 Pam Hartke is the current Admissions Representative on campus. Photo via Lake Land College
Aitken explained, "Pam leads the group of 15 ambassadors currently. I have worked with the group on various occasions since students came back to campus in August." Both Hartke and Aitken specified that during the interview process they "carefully select potential student ambassadors based on consideration of knowledge and insight into their experience here at Lake Land." Aitken continued, "Individuals chosen have a passion about the college and their program of interest, which resonates back to prospective students through recruitment efforts."
Aitken said, "Last year, as a result of COVID-19, the student ambassadors participated in virtual presentations via Zoom. By having a student ambassador on the virtual presentations, they were able to speak to students and give them the student perspective." This year is different, however. Aitken continued, "The ambassadors continue to provide in-person tours to prospective students and follow CDC guidelines of remaining six feet apart and wearing a mask. This fall we have also had the ambassadors attend local school visits, college fairs, community events and scheduled visit–days to assist in presentations." 
Please join Navigator News and Lake Land College as we applaud the leadership of our latest 
cadre of Laker Student Ambassadors for the 2021–22 school year:
Benjamin Archer West Finley, PA
Kate Bond Galatia, IL
Paige Brock Arpin, WI
Leno Caldieraro Greenville, IL
Peyton Ellis Montrose, IL
Tyson Gass Humboldt, IL
Emma Gathe Effingham, IL
R.J. Lindemann Newton, IL
Tyler Miller Armington, IL
Jordi Oliver Vienna, IL
Allie Painter Dieterich, IL
Josh Ramage Mattoon, IL
Emerson Tarr Le Roy, IL
Paige Van Dyke Louisville, IL