Advising event
Wednesday, Oct. 20, at the Luther Student Computer Lab, SAB held it's Advising event. According to Krista Burrell, the Academic Counselor and the organizer of this event, "the purpose of the Advising event is to show students how to access their Advisement Information page in the HUB. This provides their major (and the chance to change it if it is incorrect), their advisor and contact info, earliest date of registration, any blocks that could prevent registration and some resources to prepare for advising."
Burrell has organized the Advising event for the last 10 years and this is her 18th year working at Lake Land College. The Advising Event itself began 20 years ago, and had been offered during both the fall and spring semesters.    
Usually, during the Advising Event, Papa John's pizza has been offered to participants. However, like nearly all other on-campus activities, COVID-19 restrictions prevented food from being offered, just like almost every other event since the 2019 fall semester. As a sort of replacement, students who participated in this event received a free T-shirt.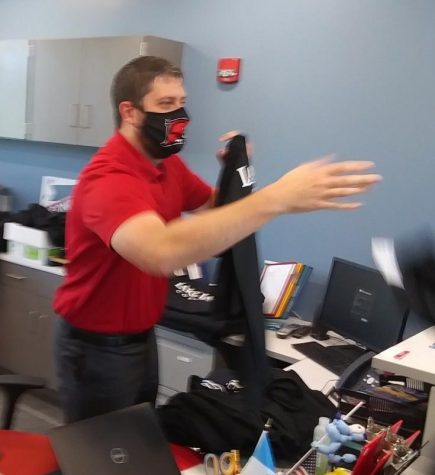 Dustyn Fatheree handing out free T-shirts
A key piece of information that Burrell stressed is that "Students are not being advised at this event! Our goal is to help them access the info they need so they can connect with their advisor and register early to get the classes and times they want. Registration begins on November 8."
Burrell states "At Lake Land College, we require our degree and certificate students to connect with their assigned advisor before they are eligible to register, so it is important to provide this info all around campus and through this event!"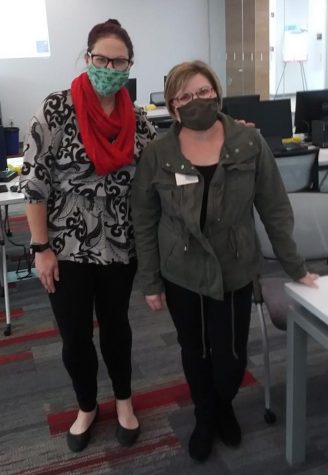 Jennifer Melton & Joy Kaurin
If you missed the November advising event, still be sure to check the Laker Hub to find out who your advisor is and get in touch with them! With registration for the spring semester opening soon, talking with your advisor will help you get a jump start on the new semester.