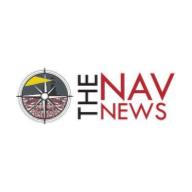 Originally named "The Lighthouse" in 1968, the Navigator News has been the student-led news source for Lake Land College. Since our inception, we have updated both the student body, staff and faculty of Lake Land College and the surrounding community on news, locally, nationally and, on occasion, internationally. We, as the Navigator News staff, plan to continue this tradition, with some new additions. Before we get into those new additions, however, let's take the time to meet this year's staff!
Our editor-in-chief, Robert Morse (He/Him) is currently a Mathematics Education major. He previously served as a reporter for the 2022-23 academic year. He enjoys writing, studying mathematics, and watching reality television. Writing about national and international happenings is his strong suit, although politics a close second and entertainment third.
The Layout & Design editor, Viv Ard (They/Them) is studying IT-Graphic Design. They previously served as a reporter during the 2022-23 academic year. They are all about everything fashion and beauty-related, while also having a passion for video games and character design. You can typically find Viv writing in the Opinion and Entertainment section, on topics they are passionate about.
Deanna is currently a science major, with special emphasis on wildlife. She became a reporter for the Navigator News at the beginning of the fall 2023 semester, with a preference for writing news and feature articles. Deanna is also a member of the Environmental club, a provisional member of PTK and a tutor in Lake Land College's tutoring center. In her free time, she enjoys swimming, watching TV shows, taking care of her many animals and reading.
Story continues below advertisement
Reporter and Business Manager, Darrius Frazier (He/Him) is studying IT-Computer Concepts. He previously served both positions, as well as being the Distribution Manager the previous year. He is also a member of Phi Theta Kappa (PTK), an honor society program for community colleges, here on campus. He typically does articles for News, Features, Opinions and Sports. In his free time, he enjoys weight-lifting, jogging, playing sports, watching television, browsing the Internet and reading.
Elfrieda Iheasi is currently a pre-nursing major to transfer to 4 year university, in addition to reporting for the Navigator. She joined the Navigator as a reporter in the spring of 2023. She enjoys reading, writing, and learning languages in her spare time.
Mabry Mitchell joined the Navigator team in the fall 2023 semester, as a reporter. She is pursuing a career in higher education, however her intended subject is still undecided. Among the long list of things she enjoys are reading, crocheting, baking, and gardening. She loves spending time with family and friends, and is always excited to watch episodes of Gilmore Girls.
Megan "Mae" Russell joined the Navigator team as a reporter in the fall of 2023. She is looking to transfer after Lake Land to Millersville University in Pennsylvania and continue her education in Art/ Graphic Design. She enjoys working with VR technology, painting and learning different types of dance in her free time.
Our excellent new team will be working hard to create a new Navigator, by reviving old sections from years past, in addition to new sections. In 2001, the editor-in-chief had a section called "Ask Allie", in which readers could submit questions for her to answer. We hope to revive this, with "Ask Robert". You can submit your question to the email at the end of this article. We also hope to include the board shift schedule for the on-campus radio station, 89.9 FM, the Max Alternative. Finally, if you would like to share an idea for an article, or want your writing to be published, email us at [email protected], or Robert Morse, the editor-in-chief at [email protected]. There are a lot more sections we want to add, so tell us what you want to see, and thanks for reading the Navigator News!