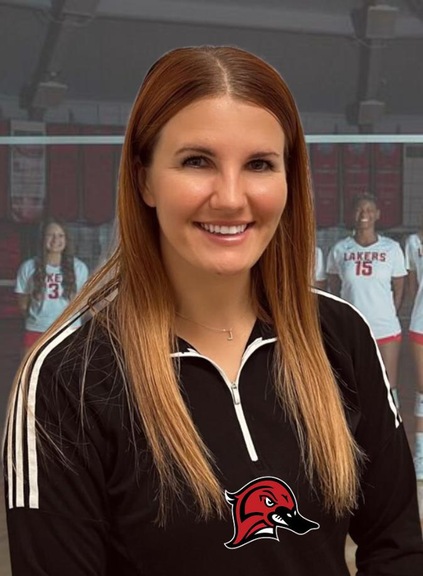 Lainey Jackson was recently named the new head volleyball coach. She took over for Ashli Wicker, who started out as the TRiO Learning Skills Specialist, but later held the position of Head Coach, from 2014-2023. Wicker was also a Lake Land College alumni, having played on the volleyball team herself.
Jackson played volleyball at Cumberland High School. When she graduated, she went on to play for Lincoln Land Community College and later, Blue Mountain College in Mississippi. She earned many awards during her long playing career, including the Midwest Athletic Conference Freshman of the Year award and NJCAA All-American honors. As her playing career came to an end, she knew she wasn't done with the sport yet. She moved back to central Illinois and began assistant coaching for a club team, Club 217 Volleyball, where she still coaches today.
In the near future, Jackson intends to take over Club 217 Volleyball with a friend. She expressed that the club team provides lots of opportunities for her to encourage students to consider Lake Land College as an opportunity to continue their playing careers at a college level. "I love this place," she said. "It's still so unreal that I am actually coaching here."
Jackson explained the motto the team follows, "There's always more." Referring to more practices, more drill work to do and more they can do to be their best. It is with this motto that she has already led the team to their first victory for the season, beating Carl Sandburg College volleyball team, on Aug. 18 in Rockford, Illinois. They beat the other team 3-1. With this victory, they march forwards with hopes of bringing home another win.
Story continues below advertisement
For more information on the volleyball team or Lainey Jackson, contact [email protected] and don't forget to visit their website, https://lakelandlakersathletics.com/landing/index to see the team's schedule.