From Lake Land College to 'The Voice'; Allie Keck's inspirational journey
Singer, songwriter and Lake Land College (LLC) alumna, Allie Keck was featured on season 23 of NBC's singing competition show, The Voice. Keck made it past her blind auditions with an astonishing performance covering Grace Potter & The Nocturnals' classic song, "Paris (Ooh La La)." Her powerful vocals and range left coaches Blake Shelton and Kelly Clarkson in awe as they turned their chairs around and fought to have Keck on each of their teams. However, Keck had the power of choice between the two coaches. After consideration, Keck proceeded onto Clarkson's team. 
Music was a very significant part of Keck's childhood. She recalled, "I've known I could sing since I was really really little, probably like three, and ever since then, it just kind of was a part of my everyday life. There was always music playing in my house. Around 15 or 16, I picked up a guitar and obviously that was around the same time Taylor Swift was coming up, so as soon as I could play and sing her songs, I was good to go. Like, I don't need to learn anything else, as long as I can play the four chords that she knows, I am good to go."
Keck graduated from LLC in 2014 with an associate's degree in liberal arts and sciences. She then transferred to Illinois State University (ISU), where she received a bachelor's degree in public relations. During her time at LLC, Keck expressed her love for music by attending open mic nights on campus. She mentioned, "When I was at Lake Land, there were actually open mics, I think every once in a while, and then I took a couple music classes. I was kind of trying to figure out what I wanted to do as my major. I wasn't really sure, and Lake Land was really a big component in being able to direct me towards what was next." Keck stated that she initially planned to major in music therapy but decided to get a degree in public relations since it was more fitting for her future goals. The flexibility and support that LLC provides allowed Keck to figure out what her next step was, without feeling pressured. 
However, growing up in Neoga, Illinois, left Keck with few opportunities to pursue her love for music. This led her to leave her hometown and move to Nashville, Tennessee, where there were more chances for her passions and dreams to grow. She moved around a month or two after graduating from ISU in 2016, which made Keck the first member of her family to move away from Neoga. She left her old life behind in pursuit of prosperity, with little to her name. She commented on this experience by stating, "I pretty much moved here without really a job or anything. I had a roommate from T-Town, Dakota Danielle, ended up moving in with her, so that was nice, and then just kind of moved here with a twin bed. That's about it. That's all I had."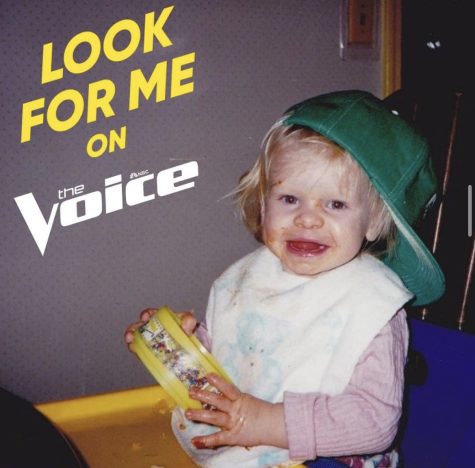 Allie Keck playing the tambourine at a young age. Photo via @alliekeckmusic on Instagram.​​
In Nashville, Keck gigs five nights a week, one of which is at her local Taco Bell, the only Taco Bell that has live music. She also spends a large portion of her time writing songs. In 2017, she released her debut single, "Kiss and Tell." Later the next year, she signed with the record label, RL Recordings. Since her EP, Keck has also released five singles. Keck said she feels as though her latest singles, "Not Your Problem" and "More Than One," best reflect the genre she is aiming for. She also mentioned she aspires to make music in the Americana genre, using Elle King and Morgan Wade as inspiration.
On Feb. 19, Keck went to Instagram to announce her future appearance on The Voice. She wrote, "I am so excited to finally announce that I auditioned for @NBCTheVoice!" She then advised her fans to watch her on March 6, as this would be her first performance on the show. Her friends, family and fans had an overwhelmingly positive reaction to the post, leaving comments such as @heather-dial-hakman's that read, "Wahoo. I just told everyone in line at the bathroom 'my niece is gonna be on the voice!'" and @kayliebeebe_realtor, who commented, "OMG YES. CONGRATULATIONS! Now I actually have to watch this season…been a hot minute. You are going to KILL IT."
The first step in Keck's audition process was to submit a couple of videos online. She then had to undergo an interview and was later invited to Los Angeles, California. They recorded her blind audition, and she got to pick out her audition song. Her family and friends were not surprised that Keck was auditioning for The Voice, since they always knew that singing was her dream. However, after watching her perform her blind audition, those close to her were astonished. Keck stated that "Afterwards, I think a lot of people were really surprised by my song choice and the power that was behind my voice because, I think being in Nashville, you're kind of put into this box of 'Okay, you do only country music' but coming out there and doing a rock/Americana song like Grace Potter, I think a lot of them were surprised by the performance I put on for sure."
Having the choice between Shelton and Clarkson as her coach was a simple decision for Keck. Since Clarkson was on Season 1 of American Idol in 2002, Keck felt as though she was more well-versed to coach her. Since she has had experience on both sides of a singing competition, Keck believed that she was the right choice for her. She recalled that Clarkson is a great coach and person. She stated that she is very nice and "just as genuine in person as she is on TV, which is really, really great. They say don't meet your heroes, and obviously, I grew up watching her on TV, so being able to meet her and exceed my expectations was really, really nice."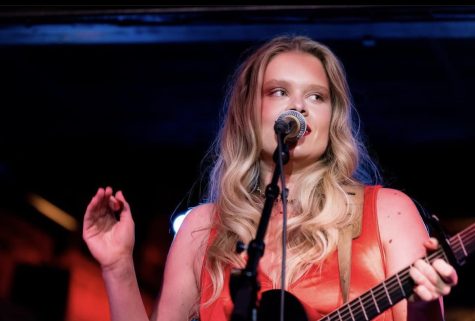 Allie Keck performing live in Nashville, Tennesse. Photo via @alliekeckmusic on Instagram.​​
Performing in front of a large live audience such as the one on The Voice is not an easy task. However, the benefits of overcoming such anxieties are extraordinary. Keck mentioned that "The platform itself is great for performers, and being on that stage, I feel like once you can conquer something like that, you can pretty much do anything. So, it was kind of a challenge, but also I knew that it would definitely put me in front of an audience that hadn't seen me before." The Voice has helped Keck gain popularity as millions of viewers have watched her performances. She hopes to take advantage of this new platform to continue progressing in her music career and put out new music.

On March 27, Keck was paired against Cait Martin by her coach, Clarkson. The two sang a competitive duet of Roxette's "It Must Have Been Love" during the Monday night "Battle Rounds." After the performance was over, Clarkson had the tough decision of choosing which contestant to eliminate. Clarkson stated, "You both are powerhouses. Now, the crappy thing for me is you both rose to the occasion in a completely different manner,…Cait has this range that is limitless. She has the voice to win this show, hands down." Unfortunately, no other coach stole Keck for their team, which meant that she was eliminated from the show. Before exiting the stage, Keck told Clarkson, "Thank you so much for this experience. I am so grateful to be able to see what's going to happen next." Although Keck is no longer on The Voice, this experience has significantly pushed her career forward, as well as her platform. 
For any college student chasing their dreams, Keck advises, "Practice as much as you can, network as much as you can. This is a relationship business as much as it is a talent business. I still have connections back in Illinois that help me book gigs whenever I'm home and make it so I can visit home more often. Keep as many connections as you possibly can." For more information about Keck or to listen to her music, visit her website at alliekeckmusic.com.