Thank you, Spider-Man! Ant-Man & the Wasp Quantumania review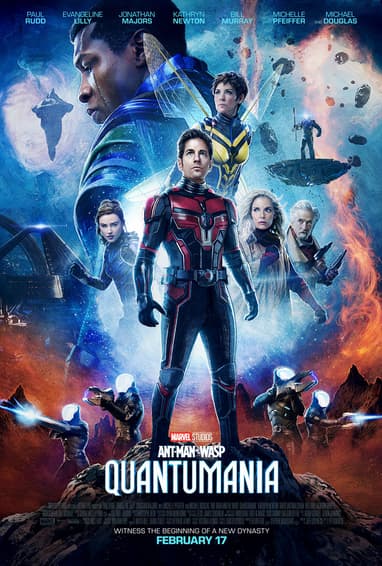 "Ant Man and the Wasp: Quantumania" was released on Friday, Feb. 17. This is the latest movie release for the Marvel Cinematic Universe and boy, does it make an impact in the upcoming storylines that fans are just starting to get a grasp on. This film features Paul Rudd as Ant Man, Evangeline Lily as Hope van Dyne and Kathryn Newton as Cassie Lang. This film features Scott Lang, Hope van Dyne and Cassie Lang as they journey to the quantum realm after Cassie accidentally makes a machine that captures them and sends them there. The quantum realm is full of different mysteries that the group was unaware of after Hope's mother Janet van Dyne who was rescued from this realm during the second film in this trilogy, refuses to tell them anything about her time there. This journey leads them to unknown places and unknown friends.  
The villain in this film is Kang: the Conqueror, who is played by Jonathan Majors. Kang is the big bad character in the Marvel Universe as a whole because of his continuing journey and mission to destroy any timeline in which one of his variants (he has multiple versions of himself because of multiple variations across the multiverse) has corrupted. This film and this character are the beginning of a villain arc and could possibly be the beginning of the big bad within this phase of the Universe. Kang made his first appearance in Loki season one where he was the big man on campus so to speak that Loki and Sylvie faced at the end of the season. Kang, to Loki and Sylvie made himself known as the father of time and was responsible for the timeline that then split into the multiverse and now here, we are. 
In Ant Man and the Wasp Quantimania, Kang (spoiler alert) is the ruler of the quantum realm and therefore is the big bad that Scott, Hope, Cassie, Hank (Hope's father) and Janet have to face in order to get out of the realm. Throughout the film they face challenges separately but, in the end, come together to launch a rebellion against Kang and along the way defend each other and find that they fight better together than apart. Scott after all is just trying to protect Cassie and get her home. The film has not received great critic reviews but the audience score greatly disagrees with this evaluation. Marvel fans most likely will look forward to the next upcoming storylines with Kang the conqueror and Scott Lang as well as Cassie Lang. Especially with the end credit scenes that set up the exciting storylines to come.