Christina White: the new nurse on campus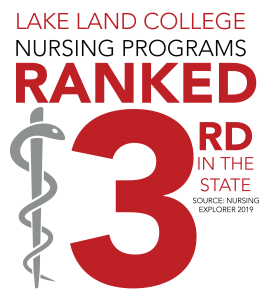 After the December 2020 retirement of Sharon Uphoff, who had been the Nurse at Lake Land College (LLC) for the previous 17 years, LLC will have its second nurse in many years as Christina White has replaced Britta Grand in the position this Feb. White hopes to make this position a permanent one. Previously, White served in the same capacity at the West Building in charge during COVID.
She explained "I worked at Sarah Bush Hospital at the Met Search Floor at the CCU (Critical Care Unit). I worked there from 2008 to 2014. After surgery, I went back to school at Indiana State University and received my bachelor's degree in Nursing. I then went to Chamberlain University (located in Addison, IL) to receive my master's degree in Family Nurse Practitioner."
White stated that working as a Critical Care Nurse helped prepare her to become a nurse at LLC. As a Critical Care Nurse she was tasked with treating and monitoring critically ill patients while also providing their basic care. In order to get to where she is today, White had to pass the State (Illinois) Board Certification Exam, as well as obtain her master's degree. 
She pointed out that, "For the State Board Certification Exam, I had to go to Springfield to take the exam to become board certified. The exam was multiple choice, fill in the blank and diagrams. My exam had approximately 175 questions. I don't know how they score it. You take the exam in a room with a computer with someone watching you. When you hit the end, the results go in and you will know when you walk out whether or not you passed or failed the exam since it is a pass/fail."  
In the meanwhile, while White is awaiting whether or not this would be a permanent position for her, she would "Make education sheets on the table outside the office for diabetic students who are struggling to check their blood sugar, taking their insulin correctly, when/how to eat when taking the insulin and when to check it after they eat." 
White is also in charge of the Food Pantry on campus. She stated that her main goal is "Reaching out to students who may be in a crisis mode since the economy is not at its greatest. Some of our students need resources for rent, electric bill for Ameren or Coles-Moultrie if the student lives in Mattoon and food. I am still trying to get the word out to every single student regarding the services we (food pantry) offers." 
Furthermore, White "places an order once a month to the Eastern Illinois Foodbank in Urbana and they deliver the non-perishable food items in their truck. The Student Activity Board (SAB), Cosmetology and Broadcast Communications delivered the items between Thanksgiving and Christmas during their food drives. Also, any faculty/staff member and student can bring any non-perishable food items. A lot of times, they place the items outside the door, so I won't know who delivered what or peeked in and put it in the chair in the office."
Any student who is in need of food or any other necessities will need to have a Laker ID card as proof of being a student in order to receive the accommodations within the food pantry. Come take advantage of the service provided by LLC!