Hello again, Wisconsin!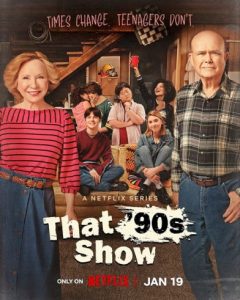 The Foremans are back in Netflix's new "That 70's Show" reboot, "That 90's show"! The ten-episode season was released on Jan 19. The new series follows Leia, the next generation of the Foremans. The series takes place back in Kitty and Red's house in Point Place, Wisconsin, where Leia decides to spend the summer with her grandparents. Watch Leia and her new friends go on wacky adventures and spend their days in the Foreman's smoky basement.
Leia is the teenage daughter of Donna and Eric Foreman, the starring couple in the original series, "That 70's show". Some of the original cast appears briefly throughout the series. However, Donna states that her and Eric are "upstairs people" now since they have matured. Since the show mainly takes place in the basement, the new group of teens are the main focus. 
The new crew consists of Leia, Gwen, Nate, Nikki, Jay, and Ozzie. Leia is not the only new generation of the old crew. Jay Kelso, the son of Michael and Jackie Kelso, plays the role of Leia's love interest throughout the series. Jay has the same carefree attitude as his father did in the original series. However, many fans have argued that the ditzy joke, Nate, seems to be a better fitting replacement for Michael than Jay. 
The main premise of the show revolves around Leia coming out of her shell around her new friends. Since she inherited some of her father's dorkiness and presumably lived a fairly sheltered life, this is her first encounter with teen rebellion. She and her friends spend their time drinking booze at the top of the water tower and laughing while forming a smoke-filled circle in the basement. All these activities are also shown in the original series, which goes to show that teens' mischief never changes.
This new reboot maintains the same likeability that the original obtained among fans. Although some fans such as twitter user @archielizabeths wish the original cast played a bigger part in the show. She posted in response to a photo of the original cast all on set together, "you're telling me they were all on set AT THE SAME TIME and didn't give us a SINGLE SCENE of them reuniting… oh those that 90s show writers are going to hell."
Overall, the show seemed to be a hit among fans who were nostalgic for "That 70's Show." The series debuted on Netflix's Top 10 list as #5 and gained 41.08 million hours viewed just four days after its premiere on Jan. 19. If you grew up watching "That 70's Show," then this new series may become your new favorite!