Come Again? The tale of third year athletes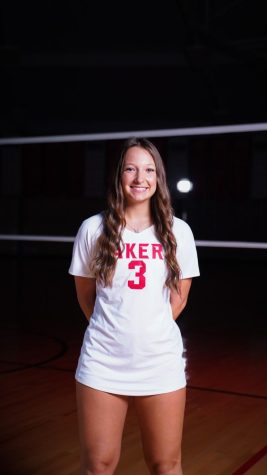 Madison Watret. Photo provided by Julian Short.​​
Roommates and best friends Abby Kallis and Madison Watret have decided to stick around for a third year as they have one season of eligibility left. Kallis, number 12, and Watret, number three, are both defensive specialists (DS) on the Laker volleyball team.
Kallis is a Charleston native and played in the setters position in high school and transitioned into the DS position when coming into the Laker program. Kallis chose Lake Land College (LLC) during the spring semester of her senior year. She tells me that she committed to LLC because "It was close to home, and it allowed me to play the sport one final time after ten years of playing. I was also excited to move into the DS position when coming to LLC because it was something I hadn't really given a chance to do as I played setter for as long as I can remember." She also explains some hesitation knowing she was going to be in a different part of the court than usual, "it's not something I was really used to. Something I had struggled with throughout high school was serve receive, but I was always working my hardest to be better and make my play something I thought positively about."
Watret, on the other hand, has an entirely different experience than her counterpart. Watret knew nothing about LLC before Coach Ashley Wicker contacted her during her senior season at Waverly High School. She says, "Coach got in contact with me during my covid senior year. We talked for a little bit, and I did research on the school and looked further into it before I made my decision. Lake Land was far enough from home, but also not too far away where it's easy to go and spend time with my family still."
When asked why Kallis chose to come back to LLC for a final year, she let out a small laugh and explained, "It's quite a funny story. I accidentally graduated from Lake Land in the spring. I decided to come back and retake some classes to get a better understanding of topics for my next university. My coach asked me to come back and play for her because our team had really good chemistry, and it happened to be that most of us sophomores were coming back for our third year. I had a blast last season, and I thought that playing this last season would be a good way to end my volleyball career with all my closest friends." Kallis smiles fondly after saying this; you can tell that she's going to miss these people when she moves on but can't wait for this final ride.
When asked the same question, Watret echoes Kallis' thoughts on the fun atmosphere she had with the team and her past two years at LLC. Watret loves that she was able to meet new people through the other athletic teams, class, and living in the apartments next to campus. She explained she wasn't really ready to let go because of the experiences she had throughout her time on campus. Watret says the campus is very comfortable and helpful towards her education, and she wasn't necessarily ready to say goodbye to the friends, who are more like family, that she has made here.
Kallis proudly smiles when talking about her final season. She describes her feelings towards this season as being the best she's had here at LLC. Watret feels the same as Kallis when speaking about the team this season. Kallis thinks the incoming freshmen fit perfectly with their team even though most of the squad has been here for two or three years. Also, their practices look really good, and they have started playing as a team. Watret agrees that the freshmen mesh perfectly with their team and that it didn't take long for them to feel comfortable around the other girls. Watret proudly says that she feels they have the potential to go far this year, and she's very excited to see where this season goes.
Kallis thanks LLC for her time here; it has helped her get comfortable with the college experience rather than diving head first into college life. She says, "I grew up here, so I already knew a lot about Lake Land coming into college, and it was a step in the right direction for my education." Watret says the same while adding that instructors around campus have prepared her as well. She explains, "They are willing to answer questions, and they greatly challenge my education and prepare me for what is expected of me at a University."
Kallis plans to transfer to Arizona State University in the spring semester. She is currently studying pre-medicine with the intention of becoming a physician's assistant. While Watret doesn't explicitly know what university she would like to go to, however, she knows she wants to continue playing volleyball for another four years at her next institution. She plans to start a dental hygiene program after finishing her years of play.
You can see these strong Laker athletes on the court all season in the next coming months as they finish out their final season with us at Lake Land College.