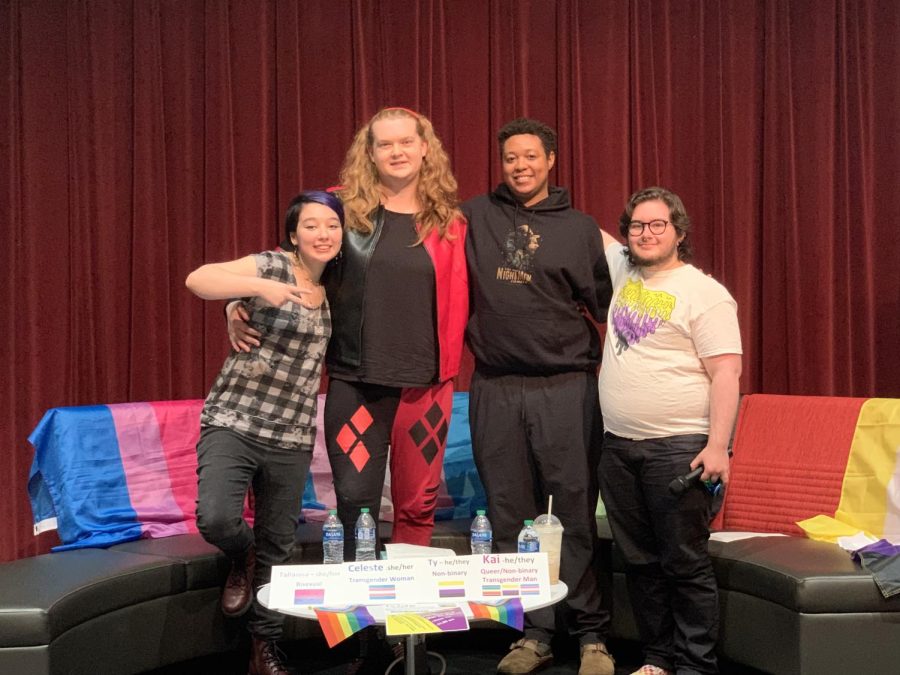 Maia

Going from left to right: Talianna (she/her), Celeste (she/her), Ty (he/they) and Kai (he/they) all members of PRIDE club take part in a panel to answer questions and educate students and staff of the LGBTQIA+ community.
On Wednesday, April 13, the PRIDE club held a student panel in the Lake Land College (LLC) theater in the Luther Student Center. PRIDE club is a club on LLC campus that meets every second Wednesday of every month at 11a.m. to discuss and be a safe space for any student who is a part of the LGBTQIA+ community. They also hold a panel every year with students to create the space to talk about and educate others about the queer community and provide a space for students to ask questions that may go unanswered in everyday life. The members of the PRIDE club spoke to the students of LLC about their stories and answered questions about issues such as internalized homophobia and transphobia, how they came out, their opinions on certain topics that come up in the LGBTQIA+ community and what certain topics within the queer community are and pertain to. 
The members who spoke at the panel were Talianna (she/her), Kai (he/they), Ty (he/they) and Celeste (she/her). The Director of Student Success services Kim Hunter served as a moderator for the panel. The members started off with telling their coming out stories, some being not so happy and some being stories of acceptance and learning. 
When asked what LGBTQIA+ is, Kai, along with other members stated that, "LGBTQIA+ is a community where it's an umbrella for anyone who is not cisgender [someone who falls under the binary, male or female, construct] heterosexual [one who is attracted tothe opposite sex] and against the norm."  The group also stated that "questions [about coming out stories and the story of the person in general] are very personal; not one individual is gonna have the same [story] as another." 
The panel answered questions that came from the audience after telling their stories which continued throughout the rest of the panel. They answered questions about what being "queer" means to the LGBTQIA+ community, stating it means "being different. [It is a] blanket term for anyone not cisgender and heterosexual. It has become very empowering throughout the community." They also answered questions about different terms and concepts in the LGBTQIA+ community like "internalized transphobia" and "internalized homophobia." They answered questions about how to approach learning someone's pronouns and how using someone's correct pronouns "is just a sign of basic human respect and decency," as stated by Celeste when the question was asked to the group. 
The president of the college, Josh Bullock, was present as well as many staff members and students, all showing the continuing level of learning and acceptance of LLC. When asked how she felt about how the panel went, Celeste stated that she "thought it went well." 
To conclude the panel, Kim Hunter asked the members to make one final statement for the attendants to take away and Ty stated that, "People can only meet you as far as they've met themselves." His message was speaking of the level of acceptance and understanding someone can give when being an ally or even being a member of the LGBTQIA+ community that has not fully come out to themselves or to the world yet.