Abuse in the Media
Suicide Squad's Harley Quinn and Joker are perfect picture of abuse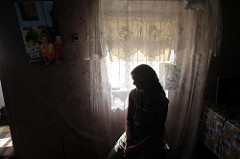 The Suicide Squad, though a thorough disappointment to fans of the DC comics, has been quite the success this summer making $384 million at the box office so far. The movie has created thousands of cosplay variations, most of which are scantily clad Harley Quinns and overly tattooed Jokers. These characters are sparking more than just costume ideas however, people of the internet have dubbed their relationship "goals".
So what is the issue with this? The Joker and Harley Quinn have a relationship that has withstood the test of time, a Bonnie and Clyde of the modern day, one might say, but only if Bonnie and Clyde were certifiably insane and abusive. The Joker spends most of his time belittling, hitting and endangering Harley Quinn. Each and every time she goes back for more and each time the abuse escalates. Every now and again, we see her give him a taste of his own medicine, but it's usually at the expense of another one of his punishments. Their relationship is less of a relationship and more just Harley Quinn being desperately in love with psychopath. But for some reason, girls and boys everywhere are looking at these two clowns as having a relationship to aspire to all because they are in a movie that is popular.
Suicide Squad is not the first form of media to glorify an abusive relationship. In the past years, we have had the Fifty Shades of Grey movie depict an emotionally abusive and controlling relationship (spawning from the Twilight series that also depicts and emotionally abusive relationship). We have been fed shows like Gossip Girl where everyone's favorite bad boy, Chuck Bass, did everything in his power to control Blair. Or even Game of Thrones, which has been thrown into the fire many times for its countless scenes showing abuse. Tons of songs are written glorifying an abusive relationship: Miranda Lambert's "Gunpowder and Lead," Florence + The Machine's "Kiss with a Fist," Eminem's "Love the Way You Lie."  There are so many similar titles that there are lists online like "The hits keep coming: 30 songs inspired by domestic abuse" on avclub.com and "Love the Way You Lie: 7 beloved Violent Songs" on time.com.
We keep getting fed these relationships that are absolutely not the kind of things one should look up to, yet we get on Facebook and repost photo sets of The Joker and Harley Quinn tagged as "goals." It's no wonder that, according to the Illinois Department of Health, one in every four women will be the victim of domestic abuse. When learning about patterns of domestic violence, it is often seen that victims of abuse often become abusers but it will be interesting to see if viewers of abuse will start becoming the abusers. If these are the kinds of relationships people are looking up to, then we are apt to see domestic violence statistics rise.
The only way to stop the trend of glorified domestic violence is to stop feeding into it. Sure, watch the Suicide Squad movie, but don't take away the idea that the Joker and Harley Quinn are something to aspire to. Don't model your relationships after the abusive examples the media sets for you. A relationship that lacks mutual respect and care for one another is not worth being in. If you or anyone you know is in a dangerous situation, seek help. Lake Land College's counseling services offer help, and you can call the HOPE hotline 24/7 at 1-888-345-3990.