To Be the Very Best, You Gotta Catch 'em All
If you're a 90's baby, you've grown up with a bright fantasy world where strange creatures roam about, waiting for random people to collect them in red and white hallow spheres. This world has spawned various shows, movies, games, and merchandise, urging the public to "catch 'em all."
The colorful world of Pokemon splashed vibrant colors into our childhoods. Collectable cards, stuffed animals, GameBoy games, Nintendo 64 games and more have kept the Pokemon universe alive.
The Pokemon era is when 90's babies ruled the playground with collectable bulbasaur cards and T-shirts with Pokemon logos on the front.
If you're one of these 90's born, pokemon gear-wearing, trading card collecting, strange monster-loving kids, the creation of Pokemon Go has caused you crazy elation; as if you had caught a rare, wild Mew.
Pokemon Go is an interactive smart phone game, created by the company Niantic Inc. This game – that is very similar to the GameBoy pokemon games – was released July 2016. As of today, an estimated 9.5 million people all over the world have downloaded and played the game.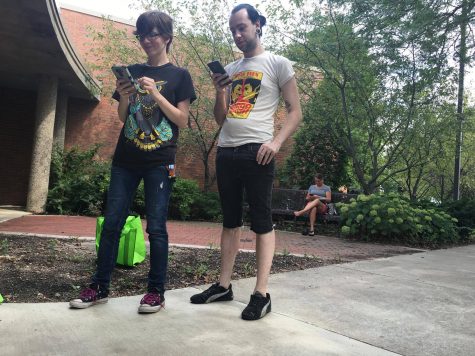 In the game, a player can roam about, catching pokemon in real world settings. For example, a player is only able to collect water-type pokemon near bodies of water like a pool, or a lake. In order to catch pokemon and to hatch eggs – which can contain the rarest of monsters – the player must actually go outside. The game clocks the amount of kilometers a person walks which helps to hatch eggs and catch wild creatures.
Pokemon Go has become so popular, that it is common to see a player, their head staring intently down at their phone, every single day. They are spotted on campus, can be seen walking on sidewalks in neighborhoods, walking through the park, and the riskiest players navigate the game while driving.
Rex Colgrove, former Lake Land College student, spent time explaining to me some pros and cons of the game from his perspective.
"When Pokémon GO was first announced, I was rather excited because it sounded like an immersive experience that would allow old Pokémon players to bring their childhood dreams to life. It also seemed like a great way to get people outside, walking about and enjoying nature while hunting for Pokémon." This statement rang similar to how most of the population felt about the release of this game.
"I like pokemon go for two reasons: the first is the nostalgia of pokemon… It creates a feel of a world outside of video games. The second reason is the physical activity involved in this game," says Eddy Hacker, current Lake Land student. His reasoning for liking the game parallels Colgrove's and most players alike.
One of the most interesting aspects of this interactive game are Pokestops. These are places where players can collect free items, like pokeballs and eggs in which to hatch pokemon. Many of the places set as pokestops are historical landmarks such as the square in Charleston where the Charleston Riot occurred.
"[Pokestops] seem like a great way to keep people involved [in the community] and could provide economic benefits for many businesses in the area," Eddy explains to me.
He continues by saying that he loves that the square in Charleston is a place with several pokestops which gets the community outside, playing a common game together and that people of all ages play the game.
The general consensus is that the game brings back pleasant childhood memories and has created a fun, healthy activity to get people outside and participate in physical activity.
Colgrove pointed out that, "People can't message each other vitriol or hate in-game, so it remains friendly to all ages."
It seems as if, instead of pitting players against one another, the game has created common ground for people to help each other and come together for a common goal: to be the very best.
However, as with everything that has positives, there are negatives trailing behind in the shadows.
According to Colgrove, the game drains battery life quickly. He continues by stating, "Since I live in the country, there are no PokéStops or gyms for a few miles in any direction, so I would need to drive to find any of those [which] defeats the purpose for me, since I don't want to burn actual fuel chasing digital dreams."
This problem Colgrove has experienced has actually become a problem for people in smaller communities and those who live in the country. These trainers only have chances to play in bigger places, which eliminate convenience in the game.
Another problem with the game is the amount of people who aren't paying attention to their surrounding and because of that, step into traffic, or cause accidents because they weren't watching the road while driving.
Playing at night and fear of predators preying upon children hunting pokemon is a real concern. Hacker expresses the worry of letting small children play alone at night time. There have been rumors of players getting jumped and robbed at night while chasing pokemon.
In light of these dangerous factors, there have been several adjustments to the game, like pop-ups when driving and playing, and strong suggestions from the local community to play the game in groups. These helpful tips have been put into place to create a safer environment for all players.
For a person who loved pokemon growing up (and maybe people who didn't start loving it until now) Pokemon Go has become a whole new experience in which to bond with others, roam around outside, and adventure to new places. Overall, this interactive game has created quite a stir and with several updates from Niantic in the works, the popularity will only rise.