Show Me the FAFSA!
FAFSA season changes for 2017-2018 school year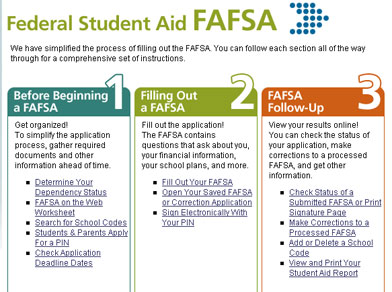 The Free Application for Federal Student Aid program is undergoing important changes for the 2017-2018 school year. In 2015, President Barack Obama announced a revamped plan for the Free Application for Federal Student Aid (FAFSA), part of the administration's ongoing efforts to ease the process for students and their families.   The FAFSA season will now begin Oct. 1, 2016, a few months earlier than years past.  Students and their families will be able to use the prior year's tax information.  Previously, they would have to estimate their income and then go back to finish the process after filing taxes sometimes as late as April.  This simple change is expected to cut down on inaccuracies and get more students applying for aid and college, a White House press release said.
It is important that students understand the gravity of this application, as it determines students' eligibility for Pell/MAP grants and federal work study.  The Pell and MAP grants are usually applied to the students tuition fees and book rentals then anything extra is paid to the students to use for other expenses.  Currently the Illinois MAP grant is in limbo due to our ongoing budget impasse, so those dollars can not be applied to a student's account until the college knows the state will be paying them.  Meanwhile the federal work study money is paid to students who apply and are hired into positions in the College.
Why not just wait to start the application after filing taxes, if it is not going to be finalized anyway?  The government sets aside a finite chunk of money for these types of programs. It is appropriated to each student who qualifies, but as  first come, first serve and there is a chance if someone were to wait too long the funds could be spent.  This makes it imperative that students and their families start their FAFSA applications as soon as possible.
The FAFSA can be completed at https://fafsa.ed.gov. For more information see the helpful staff at the financial aid office in Webb Hall Room 30 just past the Tutoring Center.