Lake Land College's Men's Basketball promotes Jullian Larry to head coach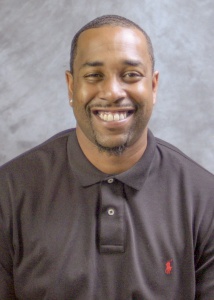 The textbook definition of a coach reads as "one who instructs players in the fundamentals of a sport and directs team strategy" However, a good coach is much more than that. Behind almost every great athlete is a coach who puts in the work to guide the team to success. A coach is someone who is always confident in their team, who has a passion for the game, and who is focused on bringing home a win. They build relationships with their players and are there for them on and off the court. A great coach lets the team learn to be the best version of themselves, not just guide them in the fundamentals of a sport. This description matches perfectly with Lake Land College's newest head basketball coach, Jullian Larry. 
Hailing from Ogden, Utah, Coach Larry attended Salt Lake City Christian Academy in Salt Lake City, Utah. One of his dreams since high school was to become a great coach. His passion for basketball and his drive to help students succeed made it a goal to achieve. However, he did not start working as a head coach right off the bat. After getting his degree in Exercise Science and University Studies, he spent time working for colleges other than Lake Land, including Dakota College and Catawba Valley Community College. He filled many different roles, including being an academic advisor for all students, intramural sports director and director of retention. He has also served as the top assistant in a program for minority males at Catawba Valley. Then he moved into coaching, beginning his coaching career at Dickinson State University, where he had finished his own playing career. 
After Lake Land's previous head coach, Brandon Colvin, resigned to pursue other options, it was a no brainer to promote Jullian Larry to head coach. He came with experience, being the assistant coach at Lake Land for four years, and having almost 13 years experience coaching collegiate ball in total. Coach Larry was drawn to Lake Land due to the great working environment he saw in the athletic department and its faculty. To him, Lake Land has been a wonderful campus that he has enjoyed being a part of so far. He enjoys the family atmosphere that Lake Land provides and knows that everyone has the common goal of helping the student athletes become successful on and off the court. One of Coach Larry's main focuses is player development, whether it be on the floor, in the classroom or in day to day life. And while his team has not been able to compete so far due to the pandemic, Coach Larry has a positive outlook. He and his team have been putting the work in this fall during practice and are looking forward to their season in January.