Athlete of the Month: Isaiah May refuses to let COVID-19 stop him from playing his hardest
Back in March when Illinois shut down, there were many uncertainties for the future of the athletes here at Lake Land College. The men's basketball team was almost finished with their 2019-20 season when they had to stop playing. One of the freshmen from the 2019-20 men's basketball team, Isaiah May, is now returning for the 2020-21 season as a sophomore. May is majoring in criminal justice and is a shooting guard/small forward on the men's basketball team, and after graduating May's plans include, "transferring to a four-year university to play basketball on an athletic scholarship," where he also plans to continue majoring in criminal justice.
May first started playing basketball when he was just four years old. "I was four years old when I started playing. I was at a basketball camp at St Louis University High School. The other kids were a little older than me, but the coaches allowed me to play with them."
Since then May continued to follow his passion for basketball by being a part of his school's basketball team, which he has memorable achievements whilst on his school's team. "One of my favorite memories from playing basketball was when I scored a career high during my senior year in high school. We played against the #1 team in Illinois, and I scored 28 points." It was after this accomplishment where he met LLC's Head Coach Julian Larry.
After meeting Coach Larry, May was considering going to Lake Land College, and it was the men's basketball team's head and assistant coaches that led to May choosing to come to Lake Land. "Coaches Julian Larry, Brandon Colvin and David Earp believed I would be a good fit for the team. They were completely honest with me about the program and everything I could do to get better. They wanted me to succeed on and off the basketball court." Since joining the Laker men's basketball team, he made another achievement. May made a shot during the first round of playoffs that won the game during the 2019-20 season.
Because of COVID-19, the NJCCA stated the men's basketball team would be only playing 22 games rather than the normal 30 games. With the news of the NJCCA's decision May stated, "I knew I had to play every game like it was my last if I wanted to advance to the next level. COVID-19 made me want to work harder."
Like many of us, May was also affected by the new virtual class environment. He stated, "I'm used to learning in an actual classroom because I am a visual learner. It took me a while to get used to online learning because I've never signed up for online classes before COVID-19. I am now used to online and virtual learning, but I'd still rather learn in an actual classroom."
Ultimately, May is passionate about playing basketball to the point it will take more than a pandemic from stopping him. He stated, "I love to score the basketball and get stops on defense. I also like to win and play as a team. I find the game of basketball more fun that way."
About the Writer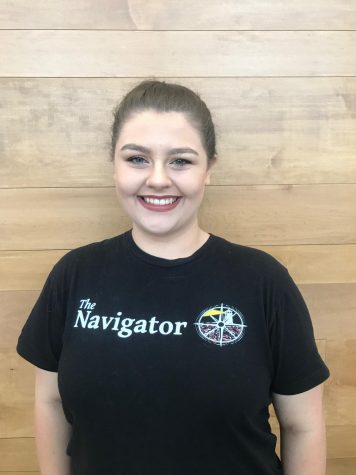 Madelyn Kidd, Editor-in-Chief
Email: [email protected]

Madelyn is a sophomore at Lake Land College, and she is a Liberal Arts major. Madelyn has plans to major in journalism...