COVID-19 super-spreader event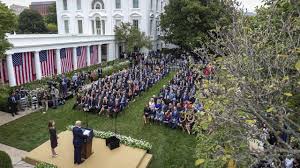 On Sept. 26, the White House held a Rose Garden party to commemorate the nomination of Judge Amy Coney Barrett. Against Dr. Anthony Fauci's medical advice, more than 150 maskless people attended this event and it is now on record as a COVID-19 super-spreader event. 
Five days later, former White House Communications Director Hope Hicks tested positive along with several Republican Senators. In that time before getting tested, Hicks traveled with various members of the Trump Administration including President Trump himself. As a result, the President and his wife, Melania, tested positive. After a short hospital stay, the President was cleared and adamant that he was "cured."
Soon after, the coronavirus quickly made its way throughout the Trump Administration and the Senate. Among those affected include Senators Mike Lee, Thom Tillis, Governor Chris Christie, White House Press Secretary Kayleigh McEnany, and former White House aide Kellyanne Conway, just to name a few. 
What is alarming is the lack of contact tracing following this party. Very few positive test results were announced publicly–if at all. Even after the fact, the White House deemed it was unnecessary to update their COVID-19 testing plans. Not only does this lack of reporting put lives at risk, it carelessly disregards science and puts our country back even farther in terms of operating safely. 
With this happening weeks before the election, it has shown the true character of the administration that is running the United States. People's lives are at stake and the soul of the nation is on the ballot. This super-spreader event should be an example of the reckless leadership that is in office controlling our country.