Amy Coney Barrett:the Supreme Court nomination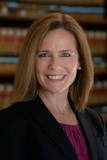 With the passing of Supreme Court Justice Ruth Bader Ginsburg on September 18th, Senate Republicans were off to the races to fill that vacant seat before the election. Just a week after Justice Ginsburg's passing, President Donald Trump announced his nomination to the court–former Seventh Circuit judge Amy Coney Barrett. 
Barret was formerly a law clerk for the late Supreme Court Judge Antonin Scalia, who was known as the most conservative judge the court had ever seen. From there, she practiced as a lawyer and eventually tenured as a professor at the University of Notre Dame Law School. After her stay, Barrett became a private-practicing prosecutor and up until recently, sat as a federal appeals court judge in Chicago. 
Trump's Supreme Court pick did not come without backlash. Not only do many Americans feel that this process is being rushed, Barrett's murky history has been questioned as well. In her previous rulings in the appeals court, Judge Amy Coney Barrett has dissented and blocked two laws that deal with abortion cases. Not only that, Barrett was previously affiliated with a controversial pro-life group while teaching at the Notre Dame School of Law. While this may seem harmless, it can turn dangerous for millions of women around the United States if she is appointed. Since the landmark Supreme Court Case, Roe v. Wade has a chance of being repealed, Barrett's vote on this matter will more than likely overturn this case and prevent women from getting abortions. 
On Oct. 13, the Supreme Court hearing for Judge Amy Coney Barret began. Accompanied by her large family, Barrett sat through hours of questioning by the Senate Judiciary Committee. She was probed on matters ranging from LGBTQ rights to health care and the Affordable Care Act. 
With many Americans unsettled by this whole process, it is up in the air as to what the next move will be for our democracy. Over a million Americans have already cast their ballots and voiced their opinions this election season. It is important now more than ever to exercise your right to vote and change the system.