Trick or treating faces uncertainty amidst COVID-19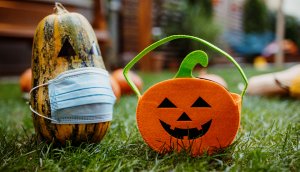 Since March, we have faced shutdowns, school closures and last-minute schedule changes. Why would Halloween be any different? In the search for information about the year's Trick or Treat plans, one thing remains certain: no one knows. 
This has been a year of ups and downs, confusion and false hope. So many milestones and activities that we tend to take for granted were postponed, held virtually or canceled altogether. To say that the general public needs something to look forward to is a gross understatement.
There are many details of trick or treating that leave the community optimistic. Many costumes already include a mask, which is ideal given the current situation. Considering that trick or treating is a largely independent activity, social distancing should not be an issue. If parents are concerned about contamination of their children's treats, they can follow the same sanitizing measures as they do their groceries or other store-handled items. Everyone is sanitizing their groceries, right? Not just me? 
Door-to-door trick or treating is a safer alternative than Halloween parties or trunk-or-treats, as it negates large gatherings. Some are even looking into ways to provide contactless goodies to their neighborhood kids, such as curbside candy dishes, premade treat bags, and even sweets via zipline. Halloween can bring out the kid in anyone, but adults are really putting their effort into making this work. 
  As an avid Halloween fan, and 32-year Trick or Treat veteran, I am prepared to make the most of the situation. If it is deemed that door-to-door trick or treating is too risky, there are still many ways that families and individuals can celebrate Halloween. Jack-o'-lanterns, tissue ghosts and construction paper bats can still adorn a home and provide "spooky" fun for the family. Go to horror movies, or new ones, can put one in the Halloween mood from the safety of home. If staying home is necessary, it will still be Halloween. At the end of the day, holidays are really about the spirit. That said, I share in a great hope that Halloween may go off without a hitch.