How To Vote for the upcoming election
With Election Day fast approaching, it is imperative that American citizens head to the polls to vote. While many have the privilege of sweeping politics under the rug, it is now more important than ever to cast your ballot and have your voice heard this election season.
According to USA.gov, the four prerequisites you must meet in order to vote legally are as follows: you are a U.S. citizen, you meet your state's residency requirements, you are 18 years old on or before Election Day, and you are registered to vote by your state's voter registration deadline. In Illinois, the deadline to register to vote online or by mail is Oct. 6, while registering in person is extended to Nov. 3.    
As the pandemic continues to pose a threat to the health and well-being of our society, it is important to choose what voting style is safest for you. If physically going to a polling location is too high-risk, you can request an absentee ballot. An absentee ballot is a physical form that includes all of the same information that would be found in a polling booth. If you choose to cast your vote this way, you must fill out an absentee ballot application form first. This can be found electronically or can be obtained from your local election authorities. Once your application is submitted and approved, you will receive the legitimate absentee ballot through the mail. Again, you must fill this document out and return it to your local election authorities before, or postmarked on, Election Day.  
If you are residing in Mattoon, Ill. or the greater Coles County area, then you are eligible to vote at these locations: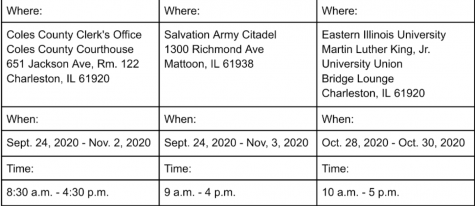 To find where your local polling place is located, check out the Illinois State Board of Elections Polling Place locator webpage.
Regardless of what side of the aisle you're on, this election will go down in history as one of the most important in our lifetime. It is vital that you as an American citizen exercise your constitutional right to vote and make a difference.