Onward takes viewers on a quest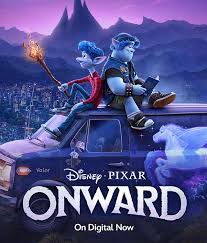 Pixar's newest movie hit theaters on March 6, grossing nearly $40 million, much smaller than other Pixar movies. This low turn out can be pointed to the fact that the movie was released as fears of the growing COVID-19 pandemic began to distance people from social gatherings. In response to movie theaters shutting down as shelter-in-place policies were enacted, Disney released the movie on their streaming services, Disney +.
The movie has an hour and 42 minutes run time and features the voices of stars such as Tom Holland and Chris Pratt. The movie is set in a fantasy suburb, where centaurs, gnomes, elves, and fairies live in a world similar to ours. The movie begins with a narration about the past being full of magic, but it is hard to master, so the creatures decided to turn to easier routes, such as light bulbs and convection ovens. The only connection to the past that exists is through a game that one of the main characters, Barley, plays. It is similar to dungeons and dragons, except everything in the game is real and based in history. 
The movie starts on the day of the main character, Ian's sixteenth birthday. Ian and Barley receive a gift from their mother that their late father left behind for them. It's a magical staff and stone, along with a spell that their father created so the elf brothers could bring their father back for a single day. Barley attempts to use the magic staff to no avail and ends up leaving Ian's room in frustration. Ian starts to read out the spell and the stone and staff start to vibrate. Ian is able to bring half of his father's body back before the stone disappears and the two brothers are left with only the legs of their father. 
The brothers must go on a quest to receive another phoenix stone, so they can finish the spell and bring the rest of their father back. The quest is filled with both fun-filled moments of laughter and moments that made my heart hurt. Ian must learn to trust Barley and do as he says so that they can survive the night and bring back their father. There is a part in the movie where Ian leaves Barley because he doesn't trust that he knows best. 
In the end, Barley finds the phoenix stone, and everyone, Ian, Barley, their mother and the Manticore that was traveling with their mother, has to work together to destroy the stone dragon that was summoned so that the brothers can see their father. Ian makes a huge sacrifice by telling Barley that he could go say goodbye to their father, something that Barley regrets not being able to do before their father died. Ian gives up meeting his father so that Barley could say goodbye. 
I did cry at the end of the movie, and I don't feel shame about it at all. The movie was about having to make sacrifices for the happiness of the ones we love. It's about realizing that the people we have in our lives will forever be better than a fantasy we have of people not in it. Ian and Barley both made sacrifices for the other's happiness, and they showed that true love means being there for the people you care about.