Get to know LLC counselor, Andrew Gaines
Here at Lake Land College, we appreciate everyone that makes the campus run smoothly. Sometimes there are those that don't get the recognition that they deserve for the work they do. That is why we would like to shine a spotlight on one of the counselors at Lake Land College who tirelessly serves the students when they need some assistance, and that counselor is Andrew Gaines.
Gaines is an Academic Counselor and Coordinator of Accommodations. He serves as the counselor for the Allied Health division. He is the one that oversees the application and approval process for students that are requesting academic accommodations based on their document disabilities. Gaines has worked for Lake Land College since 2011, starting out as a counselor for Pathways, Lake Land College's alternative education program. He gained the position he currently holds in 2014. 
In those nine years of working for Lake Land College, Gaines loves what he does as he can relate to the current students because he is an alumnus of Lake Land College himself. "My favorite part is, as an alumni, there is an added sense of pride in working here. As a student back in the mid 90's, there were several faculty and staff that helped me learn how to be a college student. They were approachable and certainly made us feel that our education was personal for them. They also let us see a lot of their real personalities which made for a fun atmosphere. I try to take the best of my experiences then and translate those into the experiences being lived out by the current students with which I interact." 
Like many Gaines has his ways to unwind after a hard day's work, but his particular hobby is quite interesting. "I'm a member of the Arebalo Brazilian Jiu-Jitsu gym here in Mattoon. It's a grappling art that focuses on chokes and joint locks. Live "rolling" makes up a portion of each class. It really is a great way to relieve stress. It's amazing how the irritants of the day disappear when you are sparring." 
Gaines has worked hard at Lake Land College, and these times are no different. As we all face a new way of living for this short time due to COVID-19, Gaines and his department are still working to provide as much help as they can to the students. "We are adjusting as the situation unfolds, but are committed to continuing to serve students." Despite the times we are living in Gaines is optimistic that things will get better, and is happy that he can be there helping as much as he can during these dreary times. "I just want to give it my best shot, and the good Lord willing, things will work out."
About the Writer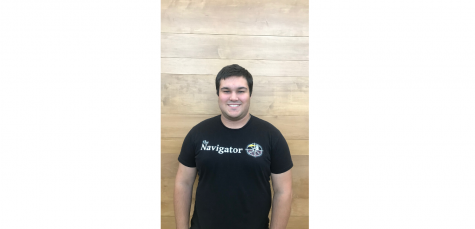 Austin Wendling, Co-Managing Editor
Austin is a sophomore at Lake Land College. He is an English major with plans to major in Secondary Education when he transfers to Concordia University...