Amid viral panic, primary election produces no surprises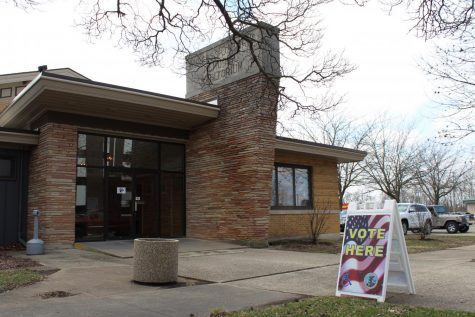 In the background of an approaching COVID-19 pandemic, one thing stood clear in this year's local primary elections: each candidate will be heading into November with a strong backing from their party. All but one of the contested local offices in districts representing Mattoon, Ill. and Effingham, Ill. were decided by 18 or more percentage points, with four decided by more than 29 percentage points.
The largest margin this election came from Darren Bailey, who defeated opponent Jeff Fleming by 55 percentage points to put his name on the right side of the ballot for Illinois State Senate District 55. Bailey currently holds the office, where he serves primarily in committees specializing in agriculture and elementary education. According to his campaign website, Bailey wishes to stand against abortion, educate voters on the importance of the second amendment, combine and decrease the number of school districts, and lower taxes. At the time of publication, the Democratic Party has not appointed an opponent.
The closest election this cycle came from the Republican primary for the Illinois Fifth District Appellate Court, where Mark Boie edged out opponent Katherine Ruocco by 8.8 percentage points. Boie, a member of the Special Supreme Court Advisory Committee for Justice and Mental Health Planning, enters the November election as the incumbent judge. He will face Democrat Sarah Smith, who ran unopposed in the primary.
One race that has been quite contested this year is the U.S. House Illinois District 15 election. This November, Erika Weaver (D) will face Mary Miller (R). Miller, who defeated second-place candidate Darren Duncan by 35.1 percentage points, has expressed priorities of "securing our borders, defending our Second Amendment rights, supporting him [Trump] as the most pro-life president we've ever had, and fighting against the socialist agenda" in her forums. In recent Democratic forums, Weaver has dismissed the "socialist" label, but also showed support for making community colleges tuition-free. Weaver exclusively expressed to The Navigator that she wishes to specifically work with Lake Land College, increasing funding for TRiO and expanding the dual credit program.
In the Republican primary for U.S. Senate-Illinois, Mark Curran defeated second-place Peggy Hubbard by 18.6 percentage points. Curran, the former Lake County Sheriff and Attorney General's Gang Crime Bureau Chief, describes himself as "Roman Catholic. Pro-Liberty. Pro-Life." He will face Senate Minority Whip Dick Durban in November. Durban is a member of the "Gang of Eight," a bi-partisan term used to describe the "eight most influential senators" in immigration reform.
The final contested seat in the two cities was the Republican race for Illinois Supreme Court Fifth District, in which David Overstreet defeated John Barberis Jr. by 53 percentage points. Overstreet currently serves on the Illinois Judicial Conference, the Supreme Court Judicial Mentoring Committee and the Illinois Judicial College Committee on Judicial Education. He goes on to face Democrat Judy Cates, a judge of the Fifth District Appellate Court.