Meet your 2020-2021 Student Trustee candidates, Calandra Donley, Lucas Duduit and Cameron Griffith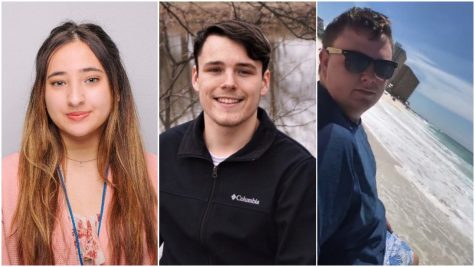 Despite the extended spring break and the shift to online classes, the Student Trustee and Student Government Association Elections will still be held from tomorrow March 18 and 19 on the Laker Hub. This is the chance for Lake Land College students to pick their sophomore representatives and the Student Trustee for the 2020-2021 school year. The Student Trustee acts as a liaison between the Lake Land College Board of Trustees and the student body. With this position, they become the voice of the students, being able to bring the concerns of the students to those with the power to initiate real change. This year there are three candidates running for the position of Student Trustee. Calandra Donley, Lucas Duduit and Cameron Griffith. The Navigator staff was able to reach out to the three candidates to allow them to voice why they should be the Student Trustee.
Disclaimer: To avoid favoritism the candidates have been listed in alphabetical order by their last name.
Calandra Donley
Austin Mason
Reporter
With SGA elections coming up at Lake Land College, I sat down and talked to Calandra Donley, one of the students running for Student Trustee to find out a little about her. She is originally from Abu Dhabi, United Arab Emirates, she moved here to Illinois particularly the Vandalia area to be with her grandparents. This allowed her to be close to them and to receive an education, majoring in Psychology. 
When asked why she wanted to run for Student Trustee, Donely said she felt it was a powerful and big position to hold. She knows, being an international student herself, that there are other international students at Lake Land College who don't feel they fit in or have a voice. She wants to be their voice. She wants to get students' perspectives and ideas and bring them to the table, where we can be a stronger and more united Laker Nation. Donely feels that she can handle a leadership role since she has been a team captain of her volleyball team for three years and has done different activities overseas.
 One thing I mentioned to her was at times at Lake Land College it feels like it's back to stereotypical divisions like in high school and she agreed, saying she wants all of us to come together, break the stereotypes, and be more diverse with each other.
 When asked what she thinks the job of the Student Trustee actually is Donely responds, "To be a good leader, guide people, also to have a voice to bring ideas to the table, good judgment and have good decision-making in your choices."
 My next question was what do you think is your best characteristic. She is a conversationalist. She loves to talk to people and could just talk to someone forever. I finished with a big question: if there was one thing you would like to change being on SGA what would you change? "To sum it up, diversity and unification of Lake Land College students."      
Lucas Duduit
Austin Wendling
Co-Managing Editor
Lucas Duduit is one of the three candidates running for the 2020-2021 Student Trustee position. Duduit is from Pana, Ill. He is here at Lake Land College for an Associates in Engineering Science. 
When asked why he wanted to run for Student Trustee Duduit had this to say, "The reason I want to be Student Trustee is to encourage and propose policies of change that will make the Lake Land experience less stressful and more helpful for all students, incoming and outgoing. Of course, my reason for pursuing such a position like this is congruent with what I believe the duties of a Student Trustee is." 
To be the Student Trustee the student must have the right personal skills and characteristics that make them uniquely qualified for the position when asked if Duduit thought he had the right characteristics he had this to say. "The best characteristics I possess, that will be essential to fully satisfy the obligations of a Student Trustee, is the compassion I hold for my peers and the ability to communicate effectively with peoples of all ages and backgrounds." 
Duduit doesn't just bring with him his compassion, he also brings with him ideas to help the student body. "The first thing I will accomplish as a Student Trustee is to update the student ID cards with the Lake Land police number and the national suicide hotline on the back of the ID cards. In alignment with providing helpful, accessible, information to students I also wish to encourage change in helping to make the Laker Hub more ergonomic for its Laker users."
Cameron Griffith
Owen Seifert
Business Manager
Meet one of the candidates for the student trustee Cameron Griffith. Cameron is an 18-year-old student here at Lake Land College who is studying in the pre-engineering program. 
When asked about why he was running for the position he told us that a lot of other students had told him he would be good for the part. He thinks it would be an amazing experience for him and that he would fit it well because of how much of a people person he is. Although, he isn't just doing this for fun. He wants to be a voice for his fellow students and is willing to fight for their voices to be heard. He wants all the students to get involved in everyday activities and strives to help everyone achieve that goal. He hopes to have your vote when it comes time for the election.