MCR returns with first U.S. tour in nine years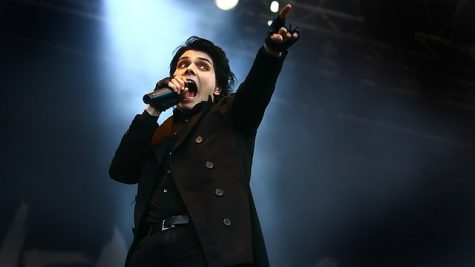 American rock band My Chemical Romance, also known as MCR, has announced their first North American tour in nine years. The band consists of vocalist Gerard Way, lead guitarist Ray Toro, bassist Mikey Way and drummer Frank Iero. MCR is a very iconic band and is one of the most popular emo bands of all time. Back in 2011, they went on a massive world tour followed up with some singular performances at festivals and other venues in 2012 before announcing their breakup in 2013. However, in October 2019, the band announced their return to the music scene. With a massive reunion show in Los Angeles, the band has made an incredible comeback with a handful of other shows and festival appearances announced.
On Jan. 28, MCR posted a mysterious video that sent fans into a frenzy. It was a cryptic teaser implying that the band had something planned. The following day, they posted another video that announced the dates for a North American tour. Here are the dates for this MCR tour:
9/9/2020 – Detroit
9/11/2020 – St. Paul, Minn.
9/14/2020 – Toronto, Canada
9/15/2020 – Boston
9/17/2020 – Brooklyn, N.Y.
9/18/2020 – Philadelphia
9/22/2020 – Newark, N.J.
9/23/2020 – Newark, N.J.
9/26/2020 – Sunrise, Fla.
9/29/2020 – Houston
9/30/2020 – Dallas
10/2/2020 – Denver
10/4/2020 – Tacoma, Wash.
10/6/2020 – Oakland, Calif.
10/8/2020 – Los Angeles
10/11/2020 – Las Vegas
10/13/2020 – Los Angeles
10/14/2020 – Los Angeles
10/16/2020 – Los Angeles
All tickets for the tour, a total of 228,600 tickets, sold out within six hours of them becoming available for purchase. While the tickets for the tour are sold out, there are still opportunities to see My Chemical Romance live in the United States and around the world. More information is available on the band's website, mychemicalromance.com.