What we learned from Taylor Swift's 'Miss Americana' Netflix documentary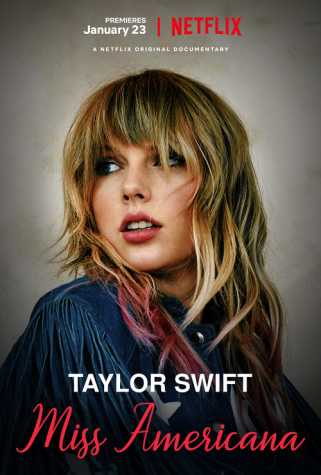 After the anticipated release of Taylor Swift's Netflix documentary, "Miss Americana," there is much to unfold and talk about after watching the one hour and 25-minute documentary of Swift describing and explaining multiple points across her over 13-year career.
Firstly, a big part of "Miss Americana" involved Swift explaining the mindset she's had all her life of wanting everyone to like her and think she was a good person. A mindset many of us can relate to. When it came to the approval from others Swift said, "Those pats on the head were all I lived for." However, to get those pats on the head she had to listen to what others told her to do eventually becoming "the person everyone wanted me to be."
Although many of us have the mindset of seeking approval from others, that mindset can set up dangerous consequences from bad situations. Swift learned these consequences and further stated, "When you are living for the approval of strangers, one bad thing can cause everything to crumble." Throughout the years Swift has had multiple confrontations with Kanye West all starting back at the 2009 VMAs. There the famous moment of West interrupting Swift's acceptance speech took place, where afterwards many audience members started booing towards West. Although to 19-year-old Swift, she thought they weren't booing at West they were booing at her because they agreed with West. However, that wasn't the end of West attacking Swift. In 2016 West song "Famous" was released where he called Swift a "bitch." Afterwards, Swift stated she didn't know about those lyrics prior to being released like West said, and then Kim Kardashian released an illegally recorded phone call edited to seem like Swift did. This resulted in "#TaylorSwiftisoverparty" trending and Swift said this about that time period, "When people decided I was wicked and evil and conniving and not a good person, that was the one I couldn't bounce back from because my whole life was centered around it [being a good person.]" Finally, Swift decided to do what she thought everyone wanted, "I just wanted to disappear, no one physically saw me for a year and that is what I thought they wanted." Thankfully, Swift did eventually return and since has released two record-breaking albums.
An unexpected reveal in "Miss Americana" was Swift talking about having an eating disorder. She described being an unhealthy weight for a long time and denying when others brought up her weight by saying she just exercises a lot and of course she eats. When in reality when she thought she looked fat or a headline said she looked pregnant she would starve herself. However, while she disappeared for a year Swift realized that she had an eating disorder and started to gain weight, going from a size double zero to a size six. Now Swift is trying to change the way she thinks for the better and when there are headlines stating she looks pregnant or is getting fat she tells herself, "It is better to look fat than to look sick."
Along with discussing how others see her as a person and how she sees herself physically, Swift also talked about the difficult and impossible standards one faces as a female artist. At the beginning of every female artist's career Swift described it as, "Everyone is a shiny new toy for like, two years." Further stating the differences a female in Hollywood must do to remain relevant compared to their male counterparts, "The female artist that I know of have re-invented themselves 20 times more than the male artist." Further stating on the sexist views within the industry, "There is no such thing as a slut. There is no such thing as a bitch. There is no such thing as being bossy. There is just a boss."
Another serious topic brought up in "Miss Americana" was Swift's sexual assault trial in 2017. This was a time period where Swift was quiet about what was going on, so getting to hear her talk about it was significant. Swift described the experience stating, "You don't feel a sense of victory when you win because the process is so dehumanizing." During the trial Swift had to fight for her win even with seven witnesses and a photo as evidence due to many people's disbelief when someone is sexually assaulted. After the trial Swift thought to herself, "This is with seven witnesses and a photo, what happens when you get raped and there is no photo?"
Swift's trial helped encourage herself to finally break her silence on politics in 2018. Despite Swift being told in her younger years, "a nice girl doesn't force their opinions on people," Swift couldn't remain silent anymore when Marsha Blackburn was running for Senate. Blackburn holds multiple beliefs that are opposite to Swift's, and Swift couldn't stand by and watch Blackburn win without saying something. Swift stated, "If I get bad press for saying don't put a homophobic racist in office, then I get bad press."
The ending of "Miss Americana" was surrounded in getting the younger American citizens to register to vote and vote in the next elections so hateful people won't be in power to hurt others. Swift released a single "Only the Young," describing that only the young can change what's happening in America with lyrics about the politicians in power and their ignorance of school shootings.
"Miss Americana" was directed by Lana Wilson and has a 92 percent rating on Rotten Tomatoes and 93 percent audience score. "Miss Americana" is also rated on Metacritic as 65 percent and an audience rating of 9.7/10 stars.