Coach Johnson unites his players, on and off the court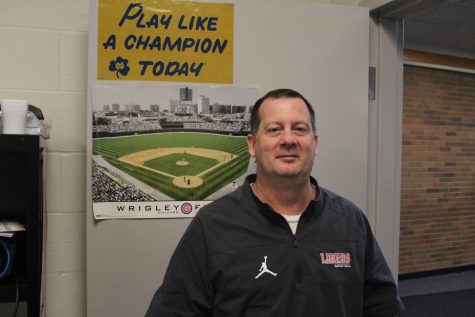 It is hard not to get excited about the Lake Land College women's basketball team. The team is ranked seventh in the nation and has outscored their opponents by an average of 21.4 points per game, as of Jan. 27, 2019. They play with an energy that electrifies their audience, and to Coach Dave Johnson, each one of his over 450 career wins feels just as big. "Every game day is as exciting as it was my first year," Johnson shares.
It is this drive for success that allows him to turn his team into a family. From the beginning of each season, Johnson forms close friendships with each player's family, helps each player find the academic resources they need and pays attention to what is going on in their lives. Years after their time as a Laker, the players can still count on their coach. He has stayed in touch with many of his former players and has even been to his share of weddings. Johnson stated that, "The time flies, but you do get to know your players and understand their goals in life and what they want to do and try to do everything you can to help them on a path to success."
When game day comes, it is up to the players to continue the relationships Johnson has helped build. After the pre-game strategy talk, the players are left to themselves. "They kind of get each other fired up, and they have a prayer that they say. They get ready that way." Off the court, players can be seen going to each others' events and forming new friendships. Players have designated spots in the vans, and they keep the same regiment to ensure comfortability wherever they play. It is all about tradition.
Johnson is not always as stressed as he seems on the court. He is a family man, after all. He plays a lot of sports with his kids, enjoys rounds of golf, and watches the Chicago Cubs. "Those are my things," Johnson stated. He also loves documentaries. "I like to learn about people and different places that I haven't been to." As for how much longer he'll be at Lake Land College Johnson shared that he really is not sure. After about six years, when his son is out of high school, he plans to decide with his family. "When I stop getting excited about coaching every day, I think I'll know that it's time to stop."
Lake Land College has three home games in February, including Wabash Valley (16-2, 8-0) on Feb. 5. On the matchup, Johnson states, "It'll be a big game. I think our players understand what it'll mean." All home games are free for students to attend. The Region 24 Quarterfinals are set to begin on March 4. An updated team schedule can be found at http://bit.ly/llcschedule.