Phi Theta Kappa mental health survey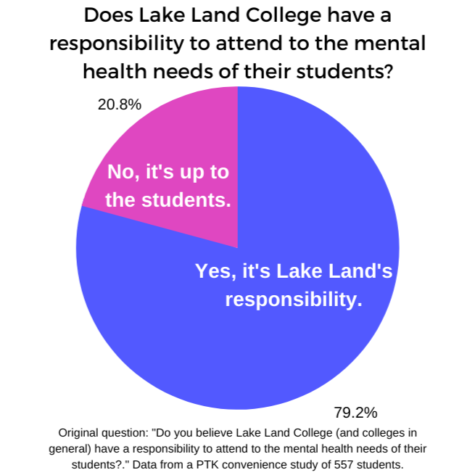 The honor society here at Lake Land College, Phi Theta Kappa or PTK, took a survey from Oct. 23 to Nov. 1 asking a large variety of students questions dealing with their status as a student here at Lake Land College and their mental health. The survey is just one step in PTK's two major annual projects, the 2019-2020 College Project and their Honors in Action Project. The PTK underwent these projects in order to become a nationally recognized five-star chapter. The idea to focus on college students' mental health was solely developed by the Lake Land College PTK chapter.
The PTK worked with several different on-campus groups in order to perfect the survey. These groups included: Pride Club, SGA, SAB, President Bullock, President Bullock's cabinet and the non-traditional students in Lake Land College's PTK chapter. The data from the survey will help Lake Land College as it moves forward in meeting the new Illinois Legislation regarding mental health on public college campuses. PTK hopes that using this information will help to inform Lake Land College students better with the statistics being closer to home than traditional statistics. The information will also be used by the newly formed multi-club Mental Health Initiative, composed of PTK, SAB and SGA, as it begins to look at what we as students can do about mental health issues found here at Lake Land College.
The survey consisted of 35 questions all answered anonymously to keep the answers as accurate as possible. 557 Lake Land College students participated in the survey. The questions ranged from economic status, work and school relations and social media. 53.1 percent of survey takers do not believe that their social media use affects their mental health, while at the same time 75 percent admit to comparing themselves to others on social media. When asked if the number of hours students work has ever caused stress 60.5 percent of the survey participants said yes.
The final question of the survey asked the students, "What else can Lake Land College do to address the mental health issues on campus?" This was an optional question and an open ending, meaning students could write in their own responses. Many of the common answers fell around the idea of more education. Removing the stigma of mental health issues and helping to normalize and accept those dealing with these issues. They also want more school involvement in the form of advertising resources that the college provides as well as instructors who would understand the situation that the students are in. Mental Health Day events were also suggested as well as some type of support group in the forms of a club or organization.
The PTK thanks everyone that participated in the survey, providing the much-needed results so that they may help to make Lake Land College a better place.