New 'Elevate' Innovation Center receives high praise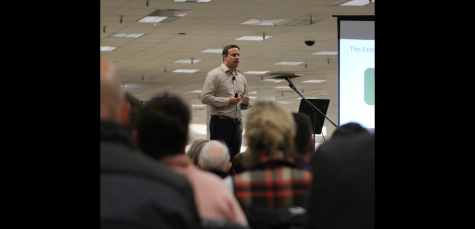 On Nov. 14, Mattoon in Motion held their second annual community update at the Cross County Mall in Mattoon, Ill. The keynote for the night was Joshua Covey, member of the Franklin Covey Institute and son of Stephen Covey, author of the "7 Habits" series. However, rather than speak of his own successes, Covey spent part of the night speaking of the accomplishments of Mattoon. "I really took it to heart, learning about what's going on here," Covey stated.
While the meeting offered an update between the six community development committees, the biggest news of the night was on the progress of the Elevate Innovation Center. Elevate first made statewide news in 2018, when the project won the Google.org Impact Challenge Illinois Peoples' Choice Award. This award granted Mattoon in Motion $325,000 to use for renovation of the new 6,000 square foot space at the Cross County Mall. According to documents provided at the event, Elevate will stand as a collaborative 24-hour workspace for entrepreneurs and business owners to grow their ideas. With the new co-working environment, Mattoon expects the number of start-ups in the area to increase by 50 percent in the next five years.
Covey's main focus was the collaboration between the six committees into three themes: economic, human and living-space capital. Regarding this collaboration, Covey stated, "When you think about those three areas, and how they work together to create a wonderful community, it really is a terrific plan and set of goals."
Mattoon in Motion plans to be finished with the co-working space approximately three months after the end of the renovations. Mattoon in Motion can be contacted at https://mattooninmotion.com/contact/, while Elevate can be contacted at https://elevate217.org/contact/.