Maria Gentry is Athlete of the Month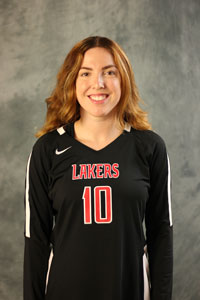 Lake Land College sophomore Maria Gentry is The Navigator's pick for October Athlete of the Month. As recipient of 2018 NJCAA All-Academic First Team status for a GPA of 4.0, Gentry is passionate about volleyball and dedicated to academics.
Playing volleyball since 7th grade and later in highschool in Stewardson, Ill., Gentry has found an avenue to practice her interests in what she describes as "The school (she) wanted to come to," while continuing her academic courses as a business major. Gentry has also taken part in recreational volleyball games since her freshman year stating, "It has helped me improve a lot."
Gentry intends to pursue her athletic career at a transfer university where she intends to seek a program in accounting. Of many transfer universities she has a particular interest in Southern Illinois University Edwardsville.
Speaking on her transition into collegiate level sports, Gentry stated, "The level has gone up quite a notch… Here we all know, whether we like each other or not, on the court we do our jobs. We do what we need to do as a team. It's more serious. More competitive."
Now an outside hitter for the Lake Land College Laker volleyball team, you can see Gentry play at any home volleyball game in the Field House.