Public transportation: beautiful, chaotic, adventure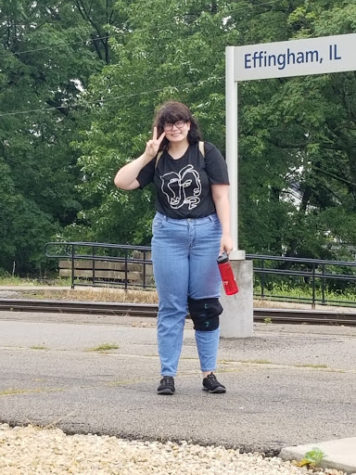 Public transportation is a beautiful, chaotic, adventure. I take the Amtrak from Effingham every Tuesday to get to Lake Land College. When people say that the train is always late, they truly mean it. It is always at least 20 minutes late, no matter what. The morning train is supposed to leave at 9:07 a.m. and arrive at Mattoon at 9:31 a.m. It is the 390 Saluki from Carbondale to Chicago, and there are always ex-convicts at the train station. You can recognize these ex-convicts because they all wear grey sweatsuits, or a white T-shirt and jeans. They are always accompanied to the train station by at least one police officer to every two ex-convicts. The train station in Effingham is mostly outside, and only a small waiting area and two gender-neutral bathrooms are inside the little building. The train itself is very nice, and is clean and feels safe. Each seat has two outlets for chargers. The Mattoon train station is huge. It has a huge waiting area with tons of seats, charging stations and two vending machines. The vending machines run out of food very quickly. The bathrooms are scary, since the lights only come on above the sinks and not the stalls, and the lights make beeping noises. You can leave the train station by either going up the stairs or using the elevator, which always smells bad and has grass and dirt on the floor. After I get off the train, I wait for the zipline. The zipline is never late and comes to the train station at 20 minutes after every hour. It costs $1 to ride it, and it arrives outside Neal Hall at 41 minutes after every hour.
My class lets out at 5:40 p.m., and I get a ride from a friend to the train station. My train in the evening is the 393 Illini coming from Chicago, going to Carbondale. I have to wait at the train station for over an hour, and usually longer since the evening trains run from 20 to 30 minutes late. This is a good opportunity for me to finish my homework and get ahead in my coursework. At this time there are also people waiting for the 392 Illini headed towards Chicago that is scheduled to arrive at 6:16 p.m. The people that you meet on the train or at the train station are truly a mixed bag. One night, there was a guy who kept playing Pink Floyd songs and insisting I go with him to see them in concert, meanwhile another night I met a sweet girl coming from Chicago to go back to school in Carbondale, so public transportation has its pros and cons. I save money, have time to do my homework and the sunset from the train is always very beautiful, but I also have to be afraid of random people approaching me to go see a band that broke up in 1985.