Douglas-Hart Nature Center hires new Volunteer Coordinator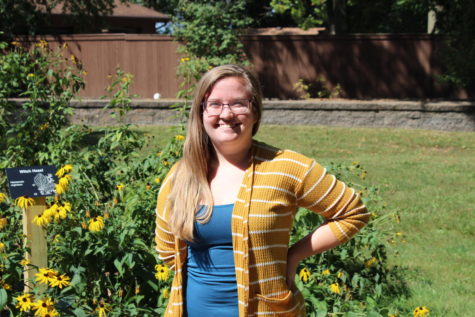 Growing up in Coles County, Malina Przygoda has always had fond memories of spending days as a child at the Douglas-Hart Nature Center. Thus, when she decided to major in Environmental Biology at Eastern Illinois University, she knew that she had found her true love. Przygoda now truly believes that, "The more you understand [the research], the more of it you're willing to protect."
Przygoda began her official work with the Douglas-Hart Nature Center in January 2019 as a conservation intern. From there, Przygoda described a "crazy fast" process leading up to her new position as Volunteer Coordinator, which she officially accepted on Sept. 17. When asked about her first goal as the new Coordinator, Przygoda stated that she wants to start building strong relationships with the community. She shared, "I don't want to be somebody behind a desk, I want to be somebody that they know. So I want to get my face out and be working with the volunteers. Make sure that everybody knows my name."
Douglas-Hart Nature Center is now responsible for three conservation areas, all of which are regularly accepting volunteers and hosting programs for the community. The first is the main center. The DHNC is located eight miles Northeast of Lake Land College, and hosts trails, animals, a library/study area and programs year-round. The next major opportunity is the Haunted Hike, which, according to their website, requires over 100 volunteers every year. At the Haunted Hike, volunteers will transform the trails into a Hocus Pocus-themed 'haunted house.' Przygoda believes that volunteering at this event would be a fun experience for everybody, whether by yourself or "as a date night." In addition to the Haunted Hike, the main center hosts citizen science projects, childrens' activities and conservation projects. The Center is open Monday through Friday from 8 a.m. to 4 p.m., Saturday from 10 a.m. to 4 p.m. and Sundays from 1 p.m. to 4 p.m. Trails are open daily, sunrise to sunset.
The second area under DHNC is The Friendship Garden, located five miles north of Lake Land College. According to Douglas-Hart's website, the garden "boasts several hundred species of plants and an additional acre of garden space." The garden is across the street from the original home of Helen Douglas-Hart and was inspired by her trip to Europe. The Friendship Garden offers a place for community members to read, study and relax.
The third and newest property managed by the Douglas-Hart Nature Center is the Whiteside Garden, located one mile east of Charleston. Przygoda was excited to share that at Whiteside, there are flowers that are rarely or never seen at any other botanical garden in the Midwest. While Whiteside Garden is currently closed to the public, Douglas-Hart hosts special events on the property. The main program is a photography class, instructed by a professional photographer. The class takes place on the first Wednesday of every month.
Przygoda and the Douglas-Hart Nature Center wish to work closely with Lake Land College students to make volunteering something that is beneficial to both the student and the Center. Przygoda ensured that "Whatever your major is, we have a spot for you," including positions for those majoring in Sciences, ECE, Sociology, and whatever else the student has to offer. The biggest needs lie in the festivals and in a special position known as "weekend hosting," in which trained volunteers fill the place of a staff member during a Saturday or Sunday. Those interested in volunteering can contact the Nature Center at [email protected], or by visiting during regular business hours.