LLC Tech Team: More than just computer repairs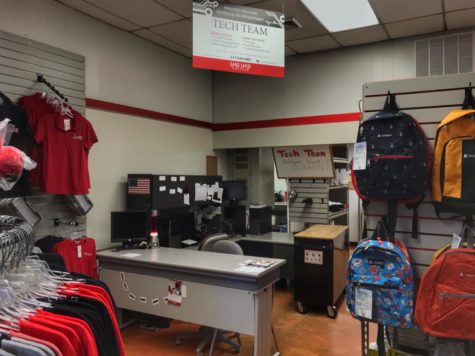 When asked about the elements of Lake Land College's Tech Team, Wayne White summed it up by stating, "What we do here they don't teach in any of the classes." White shared that mobile device repair, one of the many services offered by the Tech Team, is student run. According to Christina Kramer, the Director of Auxiliary Services, the Lake Land College Tech Team takes its roots from a community college in Michigan, and the idea was shared many years ago at a meeting of the National Association of College Auxiliary Services. Since then it has become a valuable resource. For the past five years, the team has offered computer, mobile device, video game system and electronics repairs to Lake Land College students and members of the public at a discounted rate. But the service doesn't just benefit the customers. White stated that volunteers on the tech team can gain experience in their internships that most classes at Lake Land do not cover. The Tech Team also acts as an asset to its community. Alongside Lake Land's Club I.T., the Tech Team also periodically sends volunteers to the LifeSpan Center in Mattoon to provide technical assistance to senior citizens in the community. 
Among the many services offered, students can receive a computer tune-up for around $25, while a mobile phone screen repair costs $50 plus the cost of the screen. Anyone interested in volunteering or those in need of a repair can call 217-234-5483. The Tech Team is located in the bookstore and is open Monday through Thursday from 10 a.m. to 3 p.m.