Spider-Man's unknown future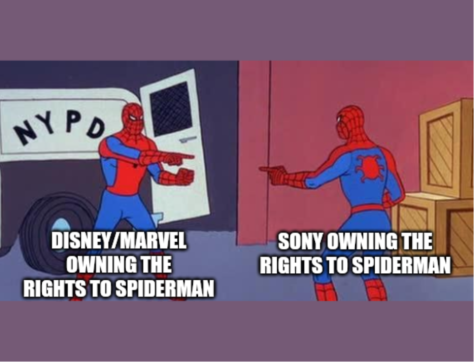 Marvel movie fans around the world were devastated on Aug. 20 as the news broke that Spider-Man played by Tom Holland would no longer be apart of the Marvel Cinematic Universe. Reports were leaked that Disney and Sony could not reach an agreement about the character. Though Spider-Man has played a vital role in the current films and is seen as the next generation of heroes in the Marvel films, the character is not owned by Marvel. Sony Pictures holds the movie rights to the Spider-Man character. A deal had been made in 2015 that allowed the character to enter the MCU in Marvel's "Captain America: Civil War." Though his appearance was brief he quickly became a fan favorite starring in other movies such as "Avengers: Infinity War" and "Avengers: Endgame," as well as starring in two standalone movies.
The original deal between Sony and Marvel/Disney was for three to four standalone films and an unreleased number of cameos. Only two films have been made, the latest film "Far From Home" has made over $1 billion and the Spider-Man franchise looked to be on the road of success for the next two films. That all changed when reports came out that Disney wanted to renegotiate their deal. As it stood, Sony would pay for the production cost of the movie and Disney would have control of making the movie with some input from Sony. Sony would then receive all the Box Office revenue for the movie while Disney would make 5 percent of the first-day earnings as well as all the money from merchandise sales. Reports came out saying Disney's new offer was for a 50/50 split, with each company paying half the cost and reaping half the rewards. Sony turned down the offer and thus the deal was done. There are still hopes that some type of agreement will be reached as the next Spider-Man film won't be out till the summer of 2021.
Fans have taken to Twitter to express their sorrow of the loss of Spider-Man from Marvel control. It has also sparked brand loyalty as each side blames the other for being greedy. Disney has not released any statements, while Sony responded on Twitter downplaying the money agreement and focusing on Marvel not wanting Kevin Feige, head producer at Marvel Studios, to be apart of the franchise. Despite the cause of the failed deal, many fans are hoping that these corporations show some care for their fans rather than their wallets and allow the Web-Slinger to swing back into the MCU.