Athlete of the Month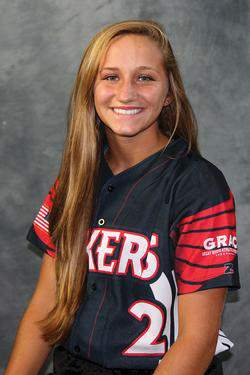 Lake Land College Softball is perhaps the most prolific Laker sports team, so great players are by no means difficult to come by. In theory, head softball coach Nic Nelson could close his eyes, spin around three times, and stab a pushpin into the team roster, and whomever he landed on would be greatly deserving of the honor of Player of the Month. Luckily, though, there was no roster stabbing necessary for coach to choose freshman center-fielder from St. Joseph, Illinois, Frankie Izard.
At 5'3", Izard packs a powerful impact on the field into a petite frame. At the time of writing this, Izard is number one in the country in hits as the leadoff batter for the Lake Land Lakers, and, according to Coach Nelson, Izard is near the top in all other offensive categories. According to softball scouting website Softball Factory, "Frankie is has a balanced skill set. At the plate, Frankie has a soft stride, good balance, and a strong load with smooth timing and a direct hand path to the ball." This review would be stellar for a softball player of any level— Softball Factory said that about Frankie when she was a just a Sophomore in high school.
Even as a senior in high school, then multisport athlete, Izard expressed her passion for the game in an interview with the News-Gazette, "I just love softball," Izard said. "it's a great feeling to be here."