Club Spotlight: Going global with ISA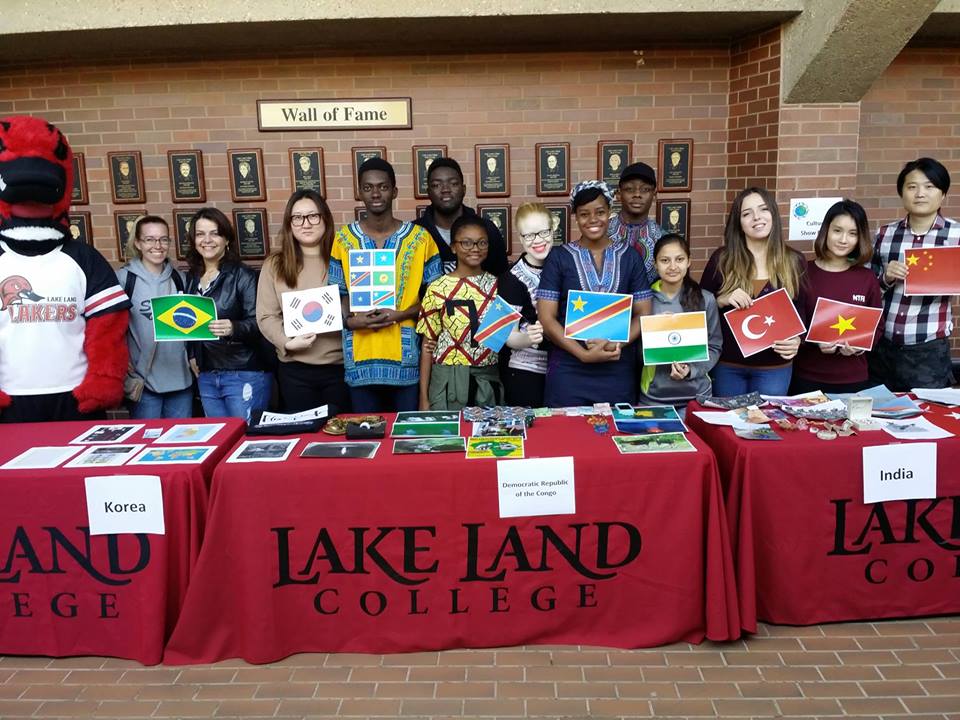 Did you know that there are over 65 international students on campus at Lake Land College? Students hail from Brazil, Colombia, China, Vietnam, Korea, Congo, Hong Kong, Taiwan, Puerto Rico and much more.
These exchange students involved with the International Studies Program also have the option of being involved in the International Student Association. American students are also eligible to participate in the club.
President of the club, Brandy Verdin, is an American student who enjoys helping international students adjust to Lake Land College.
"I try to help the international students as much as I can with English, classes, and even with things off campus," she said.
Since joining the club in the fall of 2017, Verdin has enjoyed watching the club progress and grow over time.
"When I joined the club, I was the only American student and it was a little odd. I know they were all probably looking at me like- 'What is she doing here?' But over time, we have had more American students join and I am really happy with how it has grown," Verdin said.
During this period of growth, the club has organized many different social and interactive activities for its members who are from diverse countries.
"The club brings so much diversity to Lake Land and the community. It's really nice to have the club because not only do we show them our American culture, but they show us their culture from stories of their home and their traditions," Verdin said.
In the past, the club has hosted other events such as Cultural Show and Tell during International Education Week. At this event, students represent their native country by displaying cultural mementos and speaking to fellow students. In the past, attendees of the event have been able to see their names spelled in Chinese calligraphy by a student from Hong Kong, examine notes and currency from foreign countries and see various objects and pieces of art from all over the world.
The International Student Association has consistently held many different events and parties to share more about American culture. This year, they've hosted parties for Valentine's Day, Halloween, and Christmas, have even gone ice skating and taken trips to Champaign.
The club has also hosted an event called English Café, where international students and American students would watch movies together and discuss their thoughts.
"The English Café events really helped the international students learn more English vocabulary," Verdin said. "But we decided this year that we wanted to let the American students and international students communicate one on one more."
The club then decided to create a new event called International Coffee Hour, where all students and staff could socialize together and enjoy coffee and hot chocolate.
"We had a great outcome and a great response from the students with the coffee hour," Verdin continued. "As an American student, talking to the students is so rewarding. Even though we may not understand each other sometimes because of the language, it's really nice to create friendships and bond with them," she said.
Verdin hopes that more American students will get involved with International Student Association. She also encourages all students who are interested in learning more about the club to attend the upcoming International Coffee Hour at 11 p.m. on April 10 in the Field House.